UQ Friends of Music brings together students, staff, alumni and the general public, creating opportunities for shared and interactive experiences as part of the diverse music making activities of the School of Music both on and off campus.
Donate to the Friends of Music Scholarship Fund. 
UQ Friends of Music provides:
Connections with staff, students and alumni of the School of Music
A broad community of music appreciation
Contributions to enriching forum discussions on music
Opportunities to engage with local and international artists visiting UQ
UQ Friends of Music, established in 2015 by graduates with an interest in music, is an association created and driven by volunteers that aspires to develop stronger connections with UQ current students, graduates and the wider community. UQ Friends of Music welcomes all members of the community with an interest in music to join its collaborative association.
The convenor of the UQ Friends of Music is the School of Music's Director of Performance and Engagement, Associate Professor Adam Chalabi – a.chalabi@uq.edu.au
Advantages of becoming a member include:
Exclusve access to the UQ School of Music concerts, lectures, and master classes
Creative Collaboratorium Seminars and Events
Discounted QPAC Concert tickets
Friends of Music social events
Annual fundraisers (including for the newly established Friends of Music Scholarship)
Hello from the School of Music Representatives
My name is Flora Cawte and I am a fourth year performance student studying viola. In 2016 I moved to Brisbane from Melbourne to study and learn at the UQ school of music. Since arriving in Queensland, I have not only been welcomed and nurtured by UQ, but have been fortunate enough to have experienced and participated in music making in so many enriching and various forms. My prospects for working as an Australian classical musician have been embedded and enhanced since coming to UQ to study and I am so grateful that I chose this fine institution to be my tertiary cradle. 

I'm very excited about becoming a Friends of Music intern, because it gives me the opportunity to share with you all the wonderful things that go on here. In this position, I hope to be the friendly and familiar face that you can seek out before and after UQ concerts for any questions or queries you might have. In addition, I hope that I can give you an insight into what it is like to be a student at a school that studies the past, performs in the present and fosters the future of classical music. Please, feel free to approach me at any time, or contact myself or any other member of the Friends of Music Team if you have any questions, or even just want to chat about some of the amazing music-making that goes on here. 

Flora Cawte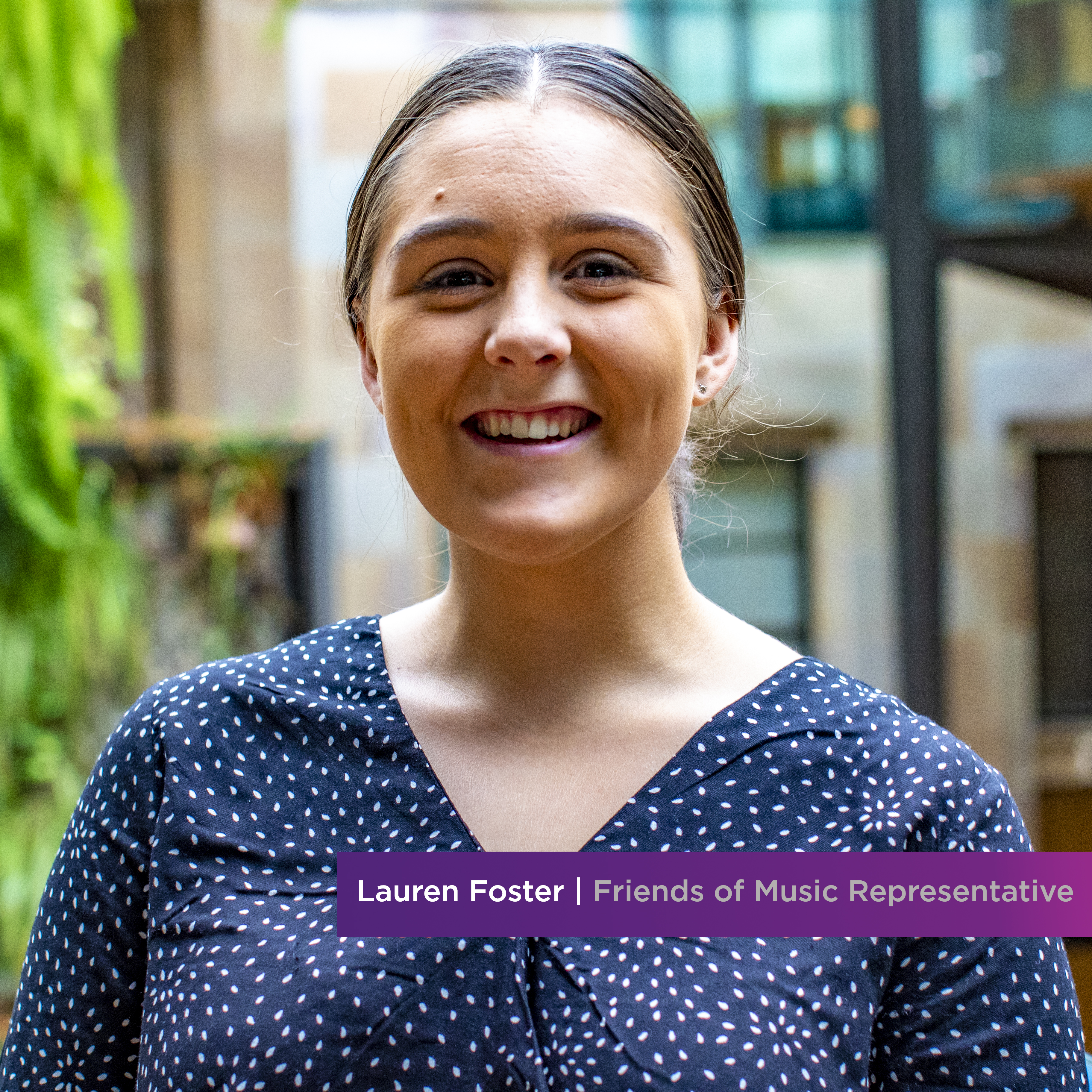 My name is Lauren and I am currently in my fourth year of the Bachelor of Music degree here at UQ. My area of study is viola performance and I have been lucky enough to be able to learn with the wonderful Patricia Pollett over the last 4 years. UQ's school of music has provided me with so many opportunities and I have been exposed to so many enriching experiences during my time here. I am extremely keen to share the wonderful aspects of this institution with as many people as possible and this is why I thought helping to coordinate activities for the Friends of Music would be an ideal internship for me. I would love to answer any questions about UQ or even just have a chat about what life is like as a BMus Performance student here. Feel free to contact Flora or I at any time!

Lauren Foster