Program
Wind Rhapsody (for flute choir)                                    Heidi Chan
Guest conductor: Heidi Chan
1.        Anastasia Sechenova                                            2.            Katherine Summit
3.         Briana Braithwaite                                                 4.            Xinyu Wan
5.         Caitlin Shin                                                               6.            Yeirim Jeong
The Rhapsody Series, a set of three rhapsodies for string quartet and flute choir, is comprised of "Earth", "Wind" and "Heaven". It explores the concept of existence and the human relationship with Heaven and Earth. The rhapsodies, linked by the wind and bird data collected from inland and coastal Queensland, go through a cycle of life, death and rebirth.
"Wind Rhapsody", a bridge between Earth to Heaven, depicts the transformative process from the physical to the spiritual world. A single flute begins a lyrical melody before opening up to the flute choir's graceful interlocking phrases, reminiscent of "Earth Rhapsody". A continuous arpeggio across the flutes then leads into the bird calls from "Heaven Rhapsody". Sonified wind data and stylised bird calls from both rhapsodies follow and are merged, varied, layered and interwoven into the sonorous sound world of Heaven.                   
To a Skylark                                                                         Richard Sanderson
Guest conductor: Christine Vellacott
Soprano: Emma Burridge
Piccolo           Katherine Summit                                      1.             Xinyu Wan
2.                    Gemma Kelson                                           3.             Briana Braithwaite
4.                    Vivian Zhang                                                Alto            Jemima Drews
Bass                Yeirim Jeong
To a Skylark is a song-setting of an abridged version of the poem of the same name by Percy Bysshe Shelley, written in 1820. Shelley's love of natural beauty is the foremost theme as he marvels at the profusely joyful song of the skylark, though his romanticist's angst manifests itself as he laments the fact that he will never know the complete happiness that he imagines the bird must feel. The text is delivered by a solo soprano, and the frenetic birdsong of the skylark is imitated by a solo piccolo.
From the Night (for flute ensemble)                            Toukie Wood
Guest conductor: Elisabeth Balarezo                                                                  
Piccolo           Katherine Summit                                      1.             Anastasia Sechenova
2.                    Michaela Brady                                           3.             Caitlin Shin
Alto                Jemima Drews                                            Bass            Yeirim Jeong
"Standing in the soft, velvety darkness, I see a silhouette appear against the moon. It is but a fleeting moment in time, then all is still once more. A breath of wind brushes against me, gradually building in intensity before dying away. The silhouette comes from the night, gently caressing my arm in passing. I catch a glimpse of wings dusted silver in the moonlight, and long, feathery antennas above watchful eyes. Circling once, then twice in adieu, the moth returns to the night." – Toukie Wood
Victori Pro Morte Filii Canticum                                   John Rotar
Guest conductor: John Rotar
Trumpets                                                                              French Horns
1.        Mitchell Andersen                                                 1. Benjamin Tomarchio
2.        Jack Duffy                                                                 2. Rhianne Humphreys
3.        P J Wilken                                                                 3. Anthony Tsai
Trombones                                                                          Tubas
1.        Richard Sanderson                                                 1. Sean Burke
2.        Josh Jarrah                                                               2. Amelia Lane
Bass    Catherine Stanley
Timpani
1. Gabriella Gigante
Victori Pro Morte Filii Canticum                                                                                    John Rotar
Guest conductor: John Rotar
This work for brass ensemble began life as a choral setting of Psalm 9. The title comes from the text of the psalm and is poetically translated to mean: Unto the end, for the Sons of the song of Death. This psalm is one of the many psalms of David and portrays a scene of war in which God comes to aid the Israelites and alters between imagery of songs of praise describing God's benevolence and generosity towards them and conversely descriptions of their adversaries being smote. Though the general tone is that of muscular exuberance there is a quiet moment of prayerfulness on the battlefield before the enemies are defeated and the splendorous relief of victory is enjoyed.
Scherzo for Brass [2,2,2,3]                                              Richard Sanderson
Guest conductor: Shing Him Chan
Trumpets                                                                              French Horns
1.        Mitchell Andersen                                                 1.             Benjamin Tomarchio
2.        Jack Duffy                                                                 2.             Rhianne Humphreys
3.        P J Wilken                                                                
Trombones                                                                          Euphoniums
1.        Catherine Stanley                                                   1.        Sean Burke
Bass. John Rotar                                                                2.             Richard Sanderson
Tuba                                                                                       Percussion
1.        Amelia Lane                                                             1.             Gabriella Gigante
Scherzo in Bb3[2,2,2,3] explores simple motivic material in playful and unexpected ways, and to extremes such that the musical scales with which the piece was composed are extrapolations of the intervallic content of the motifs themselves. The resulting scales tend to be non-octavating scales, i.e., scales that span an interval other than the standard of one octave. For example, the scale Bb[2,2,2,3] spans a major sixth, before the interval pattern is repeated three more times over a total span of three octaves. The piece could have very well been a scherzo in a regular key like Bb major, though the characteristically playful style of a scherzo could hardly have been achieved without mathematical sequences and procedures.
A Londoner in New York (movements from)                                                             Jim Parker
Guest conductors: Leyi Ouyang and Shing Him Chan
Central Park
Grand Central
Written in 1987, A Londoner in New York is a brilliantly written evocation of many aspects of life in the big city, making ingenious use of the many tone colours that a brass ensemble is capable of. A mixture of toe tapping melodies and atmospheric writing makes this a perennial favourite of the brass ensemble repertoire.
A languid waltz reflecting the rural atmosphere to be found in much of the park, Central Park can be heard to reflect the Skaters' Waltz by Waldteufel and that particular past time in the Big Apple's vast green space.
Grand Central represents the famed train station of the same name. The music depicts a steam locomotive in transit. Special effects from some of the brass instrumentalists further enhance this portrayal. 
Trumpets                                                                              French Horn
1.        Mitchell Andersen                                                 1.             Rhianne Humphreys
2.        Jack Duffy
3.        PJ Wilken
4.        Jamison Bulloch
Tuba
Trombones                                                          1.        Sean Burke
1.        Richard Sanderson                                                
2.        Catherine Stanley                                                   Percussion
3.        Josh Jarrah                                                              
Bass    John Rotar                                                                1.             Gabriella Gigante
About the artists
Christine Vellacott (conductor)
Christine Vellacott is in her first year of a Bachelor of Arts/Education at The University of Queensland. Through over a decade of playing, she has achieved an Associate Diploma in Flute Performance, and discovered how enriching an education in music is for the mind, body and soul. Christine hopes to help others experience the wonder and power of music through flute playing, teaching and conducting. She has studied the latter with Dr Warwick Potter.
Heidi Chan (conductor/composer)
Currently studying composition with Robert Davidson at The University of Queensland, Heidi Chan is a multi-award-winning composer, performer, multi-disciplinary artist and event organiser. With the juxtaposition of traditional and innovative media, extended techniques and theatrical elements, Heidi aspires to go beyond boundaries and interweave cultural heritage, nature, scientific research and inter-art aesthetic in her music.
Heidi has appeared as a composer, pianist and violinist in Queensland Music Festival, Tyalgum Festival of Classical Music, Brisbane City Council Concerts, International TIMP.100 project, UQ Concerts, Queensland Youth Orchestra Concerts and World Science Festival. Heidi is the recipient of the Australian Music Centre Special Award, Sydney Eisteddfod Composition Award, MTAQ Composer's Competition Award, Tyalgum Festival Prize for Most Outstanding Musician of Young Conservatorium (Queensland Conservatorium) and University of Queensland Bachelor of Music (Honours) Merit Scholarship.
Heidi's output has been broadcast on Fine Music and 4MBS Classic FM. Her article about the Queensland Symphony Orchestra Composer's Reading of her symphony has been featured on the AMC Resonate Magazine. Her inter-art projects at the Queensland Gallery of Modern Art, Logan Art Gallery and The Dust Never Settles at the UQ Art Museum have been recognised as outstanding achievements. Current commissions include a symphony for Queensland Youth Orchestra and a chamber work for Queensland Symphony Orchestra players.
Elisabeth Balarezo (conductor)
Elisabeth Balarezo is the Artistic Director of a Christian Youth Choir based in Ormeau, mentored by Graeme Morton. Actively involved in community music projects, Elisabeth recently travelled to South Africa in such a capacity. During her time there she formed and conducted string chamber ensembles and a youth choir that performed in a concert series and toured surrounding townships. Among the works that were performed were some of her compositions for choir, as well as several improvised works. Previous projects have led her to performances in Fiji and South America.
Elisabeth is studying a Bachelor of Music (Honours), majoring in 'cello performance with Patrick Murphy at The University of Queensland. She has been a member of UQ Chorale, under the direction of Mr Graeme Morton, for the past two years. She is currently completing a conducting internship as part of her studies with Dr Warwick Potter.
Shing Him Chan (conductor)
Joseph Shing Him Chan is a second year BMus (Hons) student of at The University of Queensland after graduating from Sydney Conservatorium High School in 2015.  From the age of 9, he has participated in different orchestras including the Hong Kong Children's Symphony Orchestra, NSW Art Unit Orchestra, SBS Youth Orchestra, NSW Youth Orchestra, and the Conservatorium High School Symphony Orchestra. In 2016, Joseph played as Assistant Principal Viola for the Australian International Symphony Orchestra Institute in Tasmania, working under the batons of Johannes Fritzsch and Matthew Coorey. In August, Joseph toured China with UQ to play with Xi'an Symphony Orchestra working with UQ Alumnus, Dane Lam; he conducted a rehearsal of Beethoven's Symphony No. 8 in F on this tour. He is currently Principal Viola in the University of Queensland Symphony Orchestra.
Joseph studied conducting in Sydney Conservatorium from Dr Carolyn Watson for two years. In 2013, he completed the Scholar Conductor course sponsored by the Symphony Services International under the tutelage of Christopher Seaman. At present, he is learning viola from Professor Patricia Pollett and conducting from Dr Warwick Potter.
Leyi Ouyang (conductor)
Leyi Ouyang was born in Hubei province, China and started her piano studies at the age of ten. She received the Bachelor of Music degree from the University of Central China Normal, Wuhan, China, in 2016. She has won awards and competitions and performs frequently as a singer and an ensemble musician. In 2017, she joined the School of Music at The University of Queensland as a postgraduate student. After studying instrumental conducting, she was inspired to learn more about conducting, which prompted a continuing collaboration with UQ Winds. She is currently preparing a professional engagement project with Dr. Warwick Potter as part of her Masters study at UQ.
Toukie Wood (composer)
Toukie Wood is an Australian composer and musician who was introduced to the violin at the age of four, and commenced piano and flute lessons not long after. Studying composition under the tutelage of Dr Robert Davidson at The University of Queensland, Toukie finds inspiration for her music through nature, visual art, colours, and textures.
Recent commissions include this work for Queensland Youth Orchestra Wind Symphony, various solo compositions, and a chamber ensemble piece for the Journey Along the Silk Road project – a collaboration between Southern Cross Soloists, The University of Queensland, and MacGregor High School as part of the 2017 Queensland Music Festival. Recent premières include 30 minutes of original music written in response to the visual art for The Dust Never Settles exhibition at the UQ Art Museum, and a saxophone, 'cello, and piano trio Ochre.
Toukie enjoys regular performances on violin, viola, piano, and flute in orchestras and ensembles in Queensland and interstate, as well as event organisation and teaching.
Richard Sanderson (composer)
Richard Sanderson is completing the fourth year of his Bachelor of Music (Honours) at The University of Queensland. He is majoring in composition, studying with Dr Robert Davidson. Richard recently worked with the Southern Cross Soloists as a composer for the Queensland Music Festival's Silk Road Project, and has written pieces for The University of Queensland Brass Ensemble and Flute Choir to be premièred in October. His latest commission is for a chamber orchestra piece to be played by members of the Queensland Symphony Orchestra to be premièred November 19. Richard plays trombone and euphonium in the UQ Symphony Orchestra, Brass ensemble, and Big Band, and runs a band for learners of secondary instruments. 
John Rotar (conductor/composer)
Growing up in a musical family, John's passion for music started at an early age. After starting piano at the age of six, he turned his hand to composition at nine, and at twelve had his first orchestral work performed by the Bundaberg Youth Orchestra. Since then John has had his works performed and commissioned by the Queensland Symphony Orchestra, Southern Cross Soloists, The Australian Voices, Australian Youth Orchestra, Queensland Youth Orchestras, Flinders String Quartet, UQ Symphony Orchestra, among others and has garnered such awards as the 2013 Queensland Wagner Society National Composition Prize, the 2014 Fanfare Artology Prize, 2015 Percy Briar Memorial Prize and the 2016 Jean Bogan Youth Prize.
John holds a Bachelor of Music, with Honours, graduating from The University of Queensland in 2016. He is currently working towards a PhD in composition at UQ under the supervision of Dr. Robert Davidson.
Emma Burridge (soprano)
Emma Burridge is a third year Bachelor of Music (Honours) student studying with Shaun Brown. Emma has been performing since she was 5 years old and has participated in various performances around Brisbane, including at the Queensland Performing Arts Centre, St Johns Anglican Cathedral and Kenmore Uniting Church. In 2016, Emma toured Cairns and Innisfail with the UQ Singers, performing in workshops for numerous schools in the Far North Queensland.
Emma has also had the opportunity to perform various operatic roles, including Marie from Donizetti's La Fille Du Regiment, Adele in Strauss' Die Fledermaus, and a niece in Britten's Peter Grimes.
About UQ Music at St John's Cathedral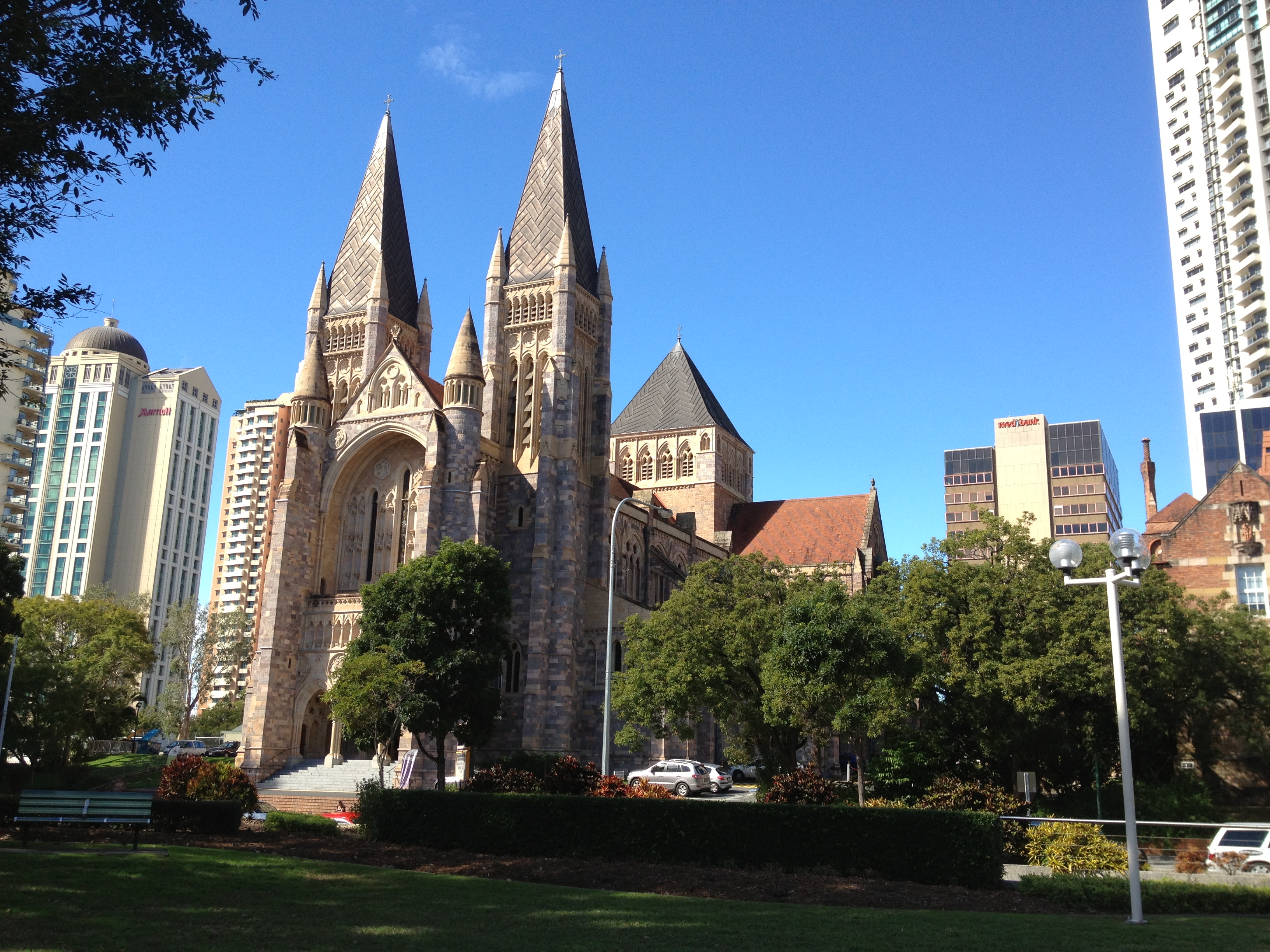 Venue
373 Ann St, Brisbane City