Lenny and Dmitri: Cold War Titans
21 October 2018

2:00pm

–

4:00pm
Warwick Potter conducts The University of Queensland Symphony Orchestra in a program celebrating two musically political giants of the twentieth century. Stefanos Melas is the violin soloist in Bernstein's Serenade: After Plato's Symposium. Lenny and Dmitri: Cold War Titans will conclude with Shostakovich's epic tenth symphony, one of the most profound musical statements of the last century.
Free pre-concert talk: LOVE CONQUERS ALL - Plato, Bernstein and their Serenade to love (Vincent Plush)
The guests at Plato's Symposium engage in a dialogue 'in praise of love'.  Love was the principle which guided the private and professional life of Leonard Bernstein and, above all, his love for humanity. In this talk, Vincent Plush discusses the ardent background behind Bernstein's only violin concerto, his Serenade.
Bernstein's 'violin concerto' was commissioned by the Koussevitsky Foundation and was dedicated'to the beloved memory of Serge and Natalie Koussevitsky'.With characteristic quirkiness, Bernstein chose not to laden his new work with the weighty designation of 'concerto'; instead, he decided to call it a 'serenade', recalling the Italian sera, or 'evening piece', with its emphasis on courtship, mating rituals and flirtatious expression of love.
           Preparing for this work, Bernstein had re-read Plato's Symposium, the ancient dialogue between guests at an imaginary Greek banquet. In essence, the Serenade becomes an essay-discussion in praise of love, the singular guiding principle of Bernstein's own life, private and professional, and, by extension, his love for humankind. The solo violin is the host, the commentator who provokes debate between the guests at Plato's party. The music itself is, like the dialogue, and is 'a series of related statements in praise of love, through the succession of speeches at the Platonic banquet.
Stefanos Melas (Soloist)
Greek American violinist Stefanos Melas is a candidate for the PhD in Music Performance at The University of Queensland School of Music under the supervision of Associate Professor Adam Chalabi, Dr Denis Collins, and Dr Liam Viney. His research on Leonard Bernstein's Serenade is supported by an Australian Government Research Training Program Scholarship and The University of Queensland Centennial Scholarship. Stefanos has won prizes at the American Protégé International Strings Competition, Atlanta Federation of Musicians Scholarship Competition, Dallas Symphonic Festival Competition, North Texas Music Competition, and the Chicago National Music Competition among others. He made his solo debut at age seventeen performing Tchaikovsky's Violin Concerto with the Georgia Symphony Orchestra as a result of winning their Young Artist Competition. He has since made solo appearances at numerous venues throughout the United States, including the Tenri Cultural Institute of New York and Carnegie Hall. Stefanos has performed in masterclasses for Paul Biss, Nathan Cole, Vadim Gluzman, David Kim, and Stephen Rose.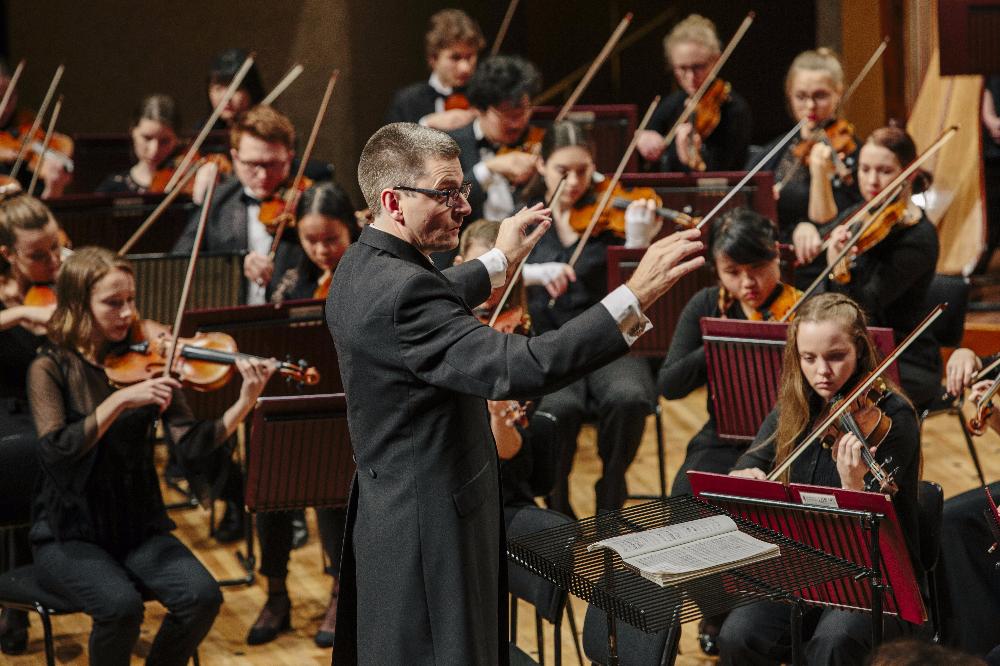 Symphony No. 10 in E minor, Op. 93 – Dmitri Shostakovich (1906-1975)
In 1948, Shostakovich had been denounced for the second time (the first was in 1936), and his works were under heavy scrutiny by the Soviet Union. Given the complex nature of being a musician in Stalinist Russia, divining Shostakovich's intentions behind a piece of music is extremely difficult. While the book Testimony (apparently the memoirs of Shostakovich) claims that the Symphony No. 10 depicts Stalin, the book's authenticity is very doubtful –for instance, the prominent musicologist Richard Taruskin believes that Testimony is not genuine. While it is impossible to say for certain what Shostakovich's true intentions regarding his music were, there are some features that are nonetheless clear to see.
Like several other Shostakovich works, the Symphony No. 10 is full of allusions to both the music of other composers as well as his own. The first movement is a brooding and ominous waltz. It's a lengthy exploration of darkness, lasting more than twenty minutes in performance, and contains a quotation from the composer's own Four Monologues on Verses by Pushkin, Op. 91 – the song quoted from is titled "What is in My Name?".
The second movement is the one that was supposedly specifically designed as a portrait of Stalin himself. It's a furious, violent scherzo that requires an enormously skilled orchestra to perform.
The third movement (another waltz) contains coded references to both Shostakovich himself, and Elmira Nazirova, a pianist and composer who Shostakovich had fallen in love with in 1953. Understanding these references requires some knowledge of various musical notational systems. For instance, Shostakovich is represented by his usual "D-S-C-H" theme; by using German musical notation, this translates to the notes D-Eb-C-B. This theme surfaces in several other works, perhaps most famously in the String Quartet No. 8, Op. 110. The "Elmira" theme here is represented by the notes E-A-E-D-A. If this is spelled out using the musical system of solfège, then the result is "E-La-Mi-Re-A".
The fourth movement begins slowly, but soon erupts into something more fitting for a finale. The "D-S-C-H" theme returns again and again, this time performed with increasing power and ferocity. Is this final statement a bold declaration that the artist always triumphs?
Venue
Queensland Performing Arts Complex, Grey St, South Brisbane