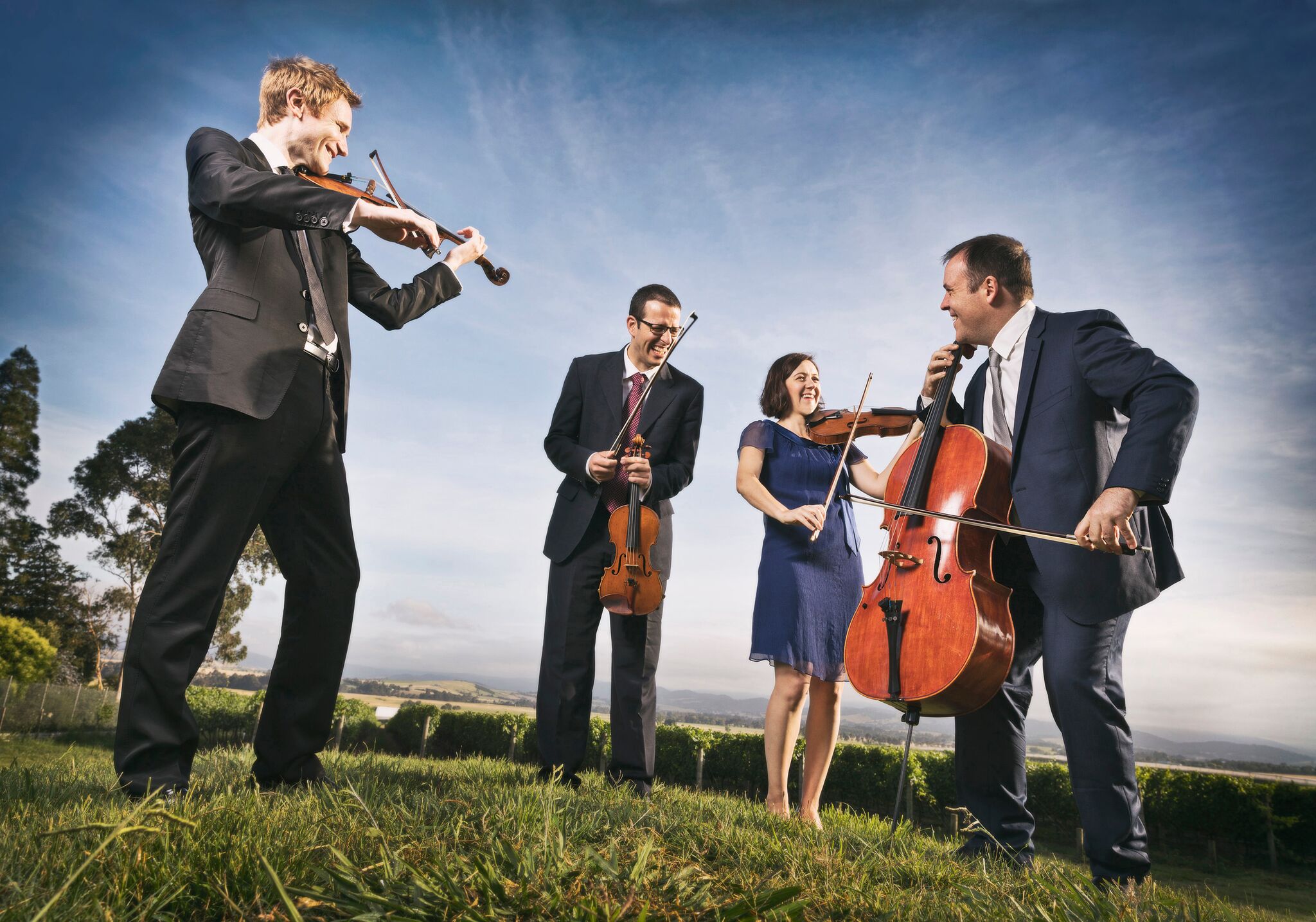 Now in its 15th year, the Tinalley String Quartet was awarded the Grand Prize of the 2005 Australian Chamber Music Competition, and captured the world's attention in 2007 when it was awarded First Prize at the prestigious 9th Banff International String Quartet Competition. The Quartet has performed throughout Australia, Europe, Canada and United States, appearing in such prestigious venues as the Vienna Musikverein, Berlin Konzerthaus, Amsterdam Concertgebouw, Bremen Die Glocke, Frankfurt AlteOper and the Sydney Opera House. International highlights have included performances in New York, Paris, London, Toronto, Vancouver, San Francisco and San Diego. The Quartet remains the only Australian ensemble to have been presented in the preeminent Berlin Konzerthaus International String Quartet Series and the Jeunesse Musik Erleben Series at the Musikverein.
In Australia, the Quartet has appeared at the nation's premier festivals including the Australian Festival of Chamber Music, the Melbourne International Arts Festival, the Canberra International Music Festival, the Perth International Arts Festival, the Tasmanian Chamber Music Festival, the Huntington Festival, the Port Fairy Festival and the Coriole Festival.
UQ Art Museum Exhibition Information
Summer Mixer: New Exhibitions, New Curators
Second Sight: Witchcraft, Ritual, Power
Friday 1 March - Saturday 29 June 2019.
Second Sight: Witchcraft, Ritual, Power brings together artists who conjure ideas related to witchcraft, sorcery and magical practices. The exhibition offers a space for intuition, rituals, collective happenings, incantations, and peripheral activity — practices recurrently dismissed as mere magical phenomena.
A series of renowned historic etchings counterbalance new artworks that depict or disrupt 'witch iconography' and impressions of witchcraft. Second Sight gives precedence to inexplicable occurrences, expressions of difference, superstition, sexual power, and the potency of the natural world in ways that are bodily and visceral yet also incorporeal.
Monday 10 December 2018 - Saturday 18 May 2019.
Summer Mixer is a suite of summer exhibitions curated by students. Diverse in content and theme, the shows draw directly from the UQ Art Collection. Based on exhibition proposals conceived during UQ's Visual Arts Curating and Writing course, the exhibitions were developed through mentorship, guidance, and physical access to collection artworks. Brittany Traverso's exhibition examines artworks which employ satire to puncture Australia's perceived egalitarian society; Taylor Hall sought artworks that deal almost compulsively with physical processes, materials and tactility, and Bree Di Mattina's exhibition displays artworks that queer and reimagine established narratives and iconography.
About 2019 UQ Art Museum Series
Venue
James and Mary Emelia Mayne Centre Building, University Dr, St Lucia QLD 4072