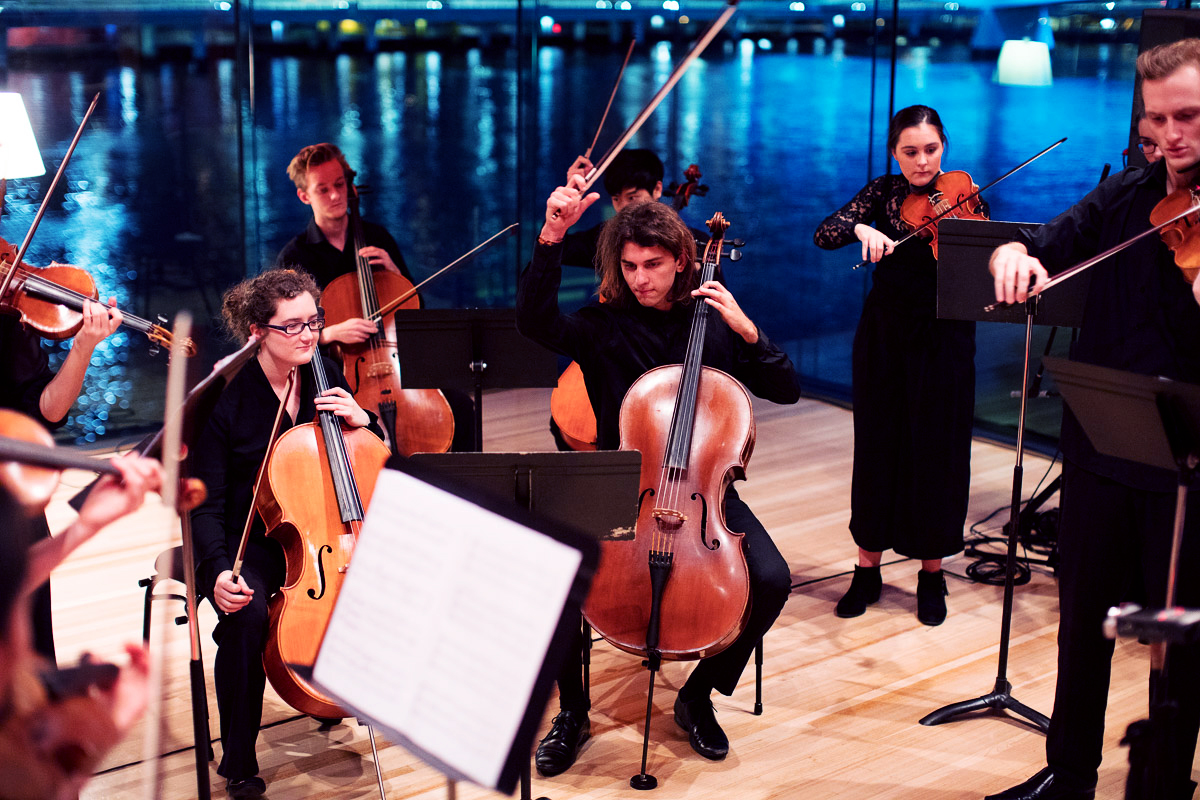 The Pulse Chamber Orchestra is an ensemble of selected School of Music string students directed by Patrick Murphy and Associate Professor Adam Chalabi. The orchestra performs unconducted, each member contributing to the artistic vision of the works. Pulse's eclectic repertoire ranges from masterworks of the string orchestra and string quartet genre, to transcriptions of Bartok's Mikrokosmos, to works of contemporary and past Australian composers.
Pulse also collaborates frequently with choirs and vocalists, most notably in with The Choir of Temple Church in 2017, in performing liturgical repertoire including works of Bruckner, Rutter, CPE Bach, J .S. Bach and Benjamin Britten. Pulse regularly engages with school students through visits and tours in regional areas, including the 2017 Cairns tour (supported by the Kinnane Bequest) where they worked with over one hundred staff and students.
PROGRAM
Andante Festivo for String Orchestra, op. 117a                J. Sibelius

Romanian Folk Dances         B. Bartók
    I. Jocul Cu Bata
    II. Braul
    III. Pe Loc
    IV. Buciumeana
    V. Poarga Romaneasca
    VI. Maruntel (from County Bihar)
    VII. Maruntel (from County Torda-Aranynos)
Serenade for String Orchestra in C Major, op. 48           P. I. Tchaikovsky
    I. Pezzo in forma di sonatina. Andante non troppo—Allegro moderato 
    II. Valse. Moderato. Tempo di Valse 
    III. Elegia. Larghetto elegiaco
    IV. Finale (Tema russo). Andante—Allegro con spirito.
UQ Art Museum Exhibition Information
The Museum in several acts: Unlearning program
Friday 26 July through Saturday 14 December 2019
Semester 2, 2019 will launch a new programming direction for the UQ Art Museum. The inaugural tether is UNLEARNING. As an institution we are approaching these tethers openly, with our artists and community of academics and students, responding in varied ways according to their practice and research. We believe learning is an exchange, and through transparent programming, open relationships with artists and students, we hope our audiences will be able to engage on multiple levels in the museum.
About 2019 UQ Art Museum Series
Venue
James and Mary Emelia Mayne Centre Building, University Dr, St Lucia QLD 4072