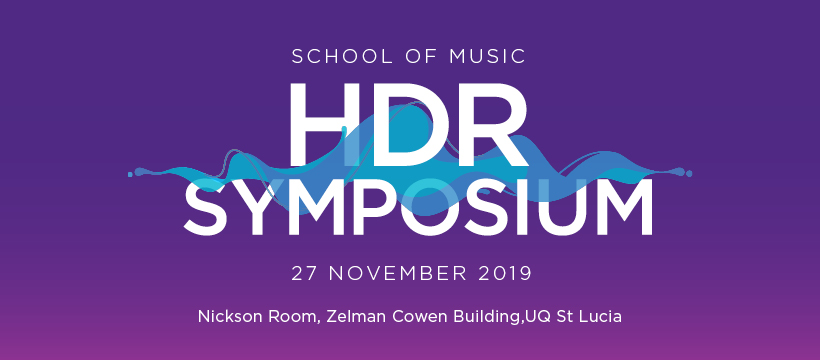 Call for Papers
We are pleased to announce that the School of Music HDR Symposium 2019 will take place on Wednesday the 27th of November.
This conference is intended to engage HDR students, (PhD and MPhil), Honours students, and faculty in the discussion and exchange of ideas around the theme: Creativity and Collaboration. This will also provide an opportunity for Music HDR students to fulfil their milestone oral presentation requirements.
The conference theme is intentionally broad in order to represent the rich and diverse field of music research and encourage a variety of perspectives, including musicology, music theory and analysis, psychology of music, practice-based and practice-led methods, music education, performance, and composition.
Topics may include:
• Creativity and collaboration in composition
• Creativity and collaboration among performers
• Creativity and collaboration as a means for interdisciplinary boundary crossing
• Collaboration that takes place between composer and performer/listener/theorist
• Creative collaboration between student and teacher
• Musical representations of creativity and collaboration
• Perceptual, cognitive, wellbeing and social aspects of creativity and collaboration
• Other approaches, including performance and lecture recital formats are most welcome
We invite abstracts of up to 250 words for spoken papers/lecture recitals (15 minutes + 5 minutes Q&A). Please include up to 5 keywords to assist with the categorisation of your research area. This will aid us in organising the schedule of papers.
Speed Papers
This year we will also be offering speed papers for honours students and HDR students who would like a challenge. Beat the buzzer and present your research in under five minutes! Please note that HDR students will need to give full-length (15mins) presentations to fulfil their milestone requirements.
Keynote Speaker
Professor Jane Davidson (The University of Melbourne)
Professor Jane Davidson is Professor of Creative and Performing Arts (Music) in the Faculty of Fine Arts and Music at The University of Melbourne. She is also chair of the Creativity and Wellbeing Hallmark Research Initiative and Deputy Director of the Australian Research Council's Centre of Excellence for the History of Emotions.
Professor Davidson's research spans a range of areas including artistic development, arts and health (particularly ageing), performance practices, emotion and expression in performance, and vocal studies. She has published extensively and has been the successful recipient of research grants internationally, and is a frequent reviewer for academic funding bodies and publishers.
Interactive Panel Discussion
This aims to cover topics such as:
• Employability
• Grants
• Entrepreneurship
• Impact and engagement
Abstract Submissions Please submit abstracts to Diana Marsh (hdr.music@enquire.uq.edu.au) by 5pm on Friday the 4th of October 2019.
Conference Assistants We also invite student involvement as conference assistants; gain professional experience in the behind-the-scenes running of events and contribute to the success of the symposium. Please contact either Eloise Doherty (eloise.doherty@uq.edu.au) or Nick Hunter (n.hunter@uq.edu.au) if you would like to participate.
About Research Seminar Series
Research seminars are presented by current staff, higher degree research students and visiting academics. 
The seminar series showcases our Higher Degree by Research candidates' work, as well as providing valuable professional development opportunities for those interested in Higher Degree by Research. Visiting scholars are regularly invited to address staff and students, and the seminars are open to the public. Please register by following the link in the session below that you wish to attend.
Venue
Zelman Cowen Building, St Lucia Campus