Greg Massingham | Malcolm Stewart | UQ Chorale | Pulse Chamber Orchestra
4 August 2019

2:00pm

–

3:30pm
GREGORY MASSINGHAM
Tenor Gregory Massingham is one of Australia's most experienced singers. Following study with the distinguished tenor Sir Peter Pears and completing postgraduate opera study at London's Guildhall School of Music, Mr Massingham returned to Australia to take up a position at the Queensland Conservatorium, where from 1995 until 2014, he was Head of Opera.
Mr Massingham performances range across opera, oratorio and concert repertoire. In particular his performances as the Evangelist in the Bach Passions and his interpretation of the works of Benjamin Britten have been highly acclaimed. He has appeared regularly with all the major orchestras and choral societies and has performed under such distinguished conductors as Sir David Willcocks, Sir Charles Mackerras, Stanislaw Skrowaczewski, Gunther Schuller, Bruno Weil and Jane Glover.
Mr Massingham holds a particular interest in contemporary music and has given the first performance of many works by Australian composers as well as the Australian premiere of works by composers such as Witold Lutoslawski, John Corigliano and Howard Blake. He gave the first Australian performance of Brett Dean's Winter Songs with the Melbourne Symphony Chamber Players, a work he has performed several times since, most recently at the Sydney Festival with the Berlin Philharmonic Wind Quintet.
In 2018, Mr Massingham released "Noble Peace", a CD of Bach tenor arias from the cantatas featuring obbligato instruments and in 2019 "The Middle of Life" a recording of Britten vocal works 1953-1958.
Malcolm Stewart
Malcolm Stewart was born in Terrigal NSW and commenced studying horn at age 11 whilst a student at Young Primary School. Following his school years he studied at the Queensland Conservatorium of Music with Peter Luff before moving to Switzerland to complete a post graduate degree at the Music Hochschule Zurich Winterthur under David Johnson from the American Horn Quartet. During this time Malcolm held a Co-Principal position with the St. Gallen Symphony Orchestra for 3 years. Whilst in Europe, Malcolm performed with the Luxembourg Philharmonic Orchestra, the Bern Symphony Orchestra and festival orchestras throughout Germany. He also had lessons with renowned horn players from all over the world i.e. Stafan Dohr, Hector Mcdonald and Ab Koster. After returning to Australia in 2002 Malcolm was Guest Principal with the Australian Opera and Ballet Orchestra for 6 months before taking up a one year contract of Associate Principal with the Adelaide Symphony Orchestra. Following this Malcolm was appointed Associate Principal with the Western Australian Symphony Orchestra; a position he held for 9 years. Malcolm has performed as a guest with most of Australia's Orchestras and in 2011 was appointed QSO's Principal Horn. He also teaches at the University of Queensland and the Queensland Conservatorium of Music.
Adam Chalabi
Adam Chalabi holds the position of Associate Professor of Violin at the University of Queensland. He is first violinist of the internationally renowned Tinalley String Quartet, violinist of White Halo Ensemble and held the position of Concertmaster of Orchestra Victoria from 2009-2014. He has appeared as guest concertmaster with numerous orchestras within Australia and overseas including the Sydney, Melbourne, Queensland and Tasmanian Symphony Orchestras. He previously held the position of Head of Strings at the Australian National Academy of Music. Between 2002-2009 Adam was Principal Violin with the Zurich Chamber Orchestra.
Born in London, Adam began his violin studies at the age of four with the Suzuki Method and attended the Purcell School  and Royal Northern College of Music under the tutelage of Maciej Rakowski. He is very grateful to have been supported by the Countess of Munster, Ian Fleming and Lawrence Atwell Charitable foundations. Adam plays on a Joseph Panormo violin circa 1805.
UQ Chorale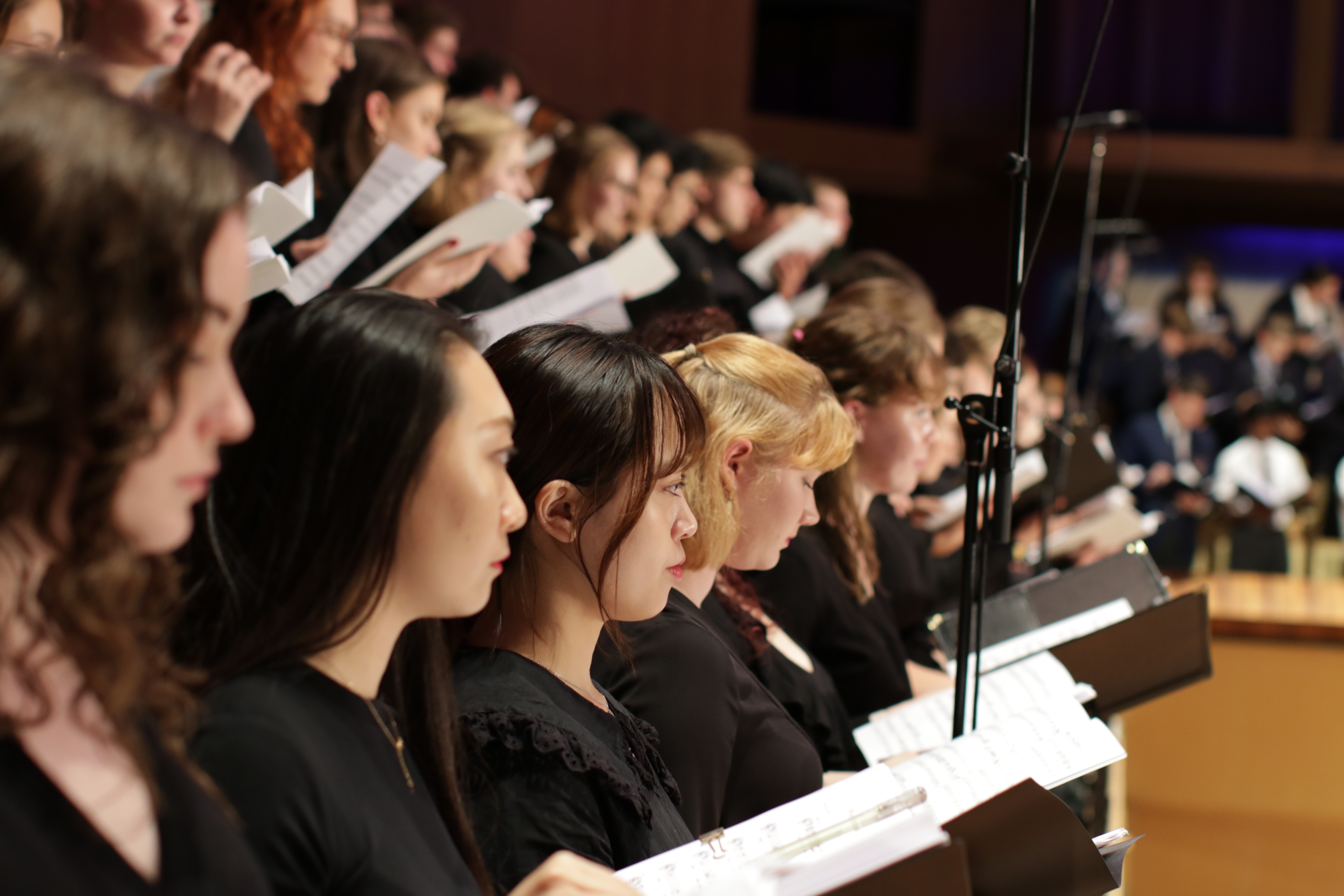 Directed by Graeme Morton, The University of Queensland Chorale is the flagship of the choral program at UQ. It includes members from faculties across the University, with a high proportion from within the Bachelor of Music (Honours) program.
While providing essential training in choral technique, repertoire and aural skills to its members, the Chorale undertakes an ambitious annual performance program that involves collaborative performances with the UQ Symphony Orchestra, Pulse Chamber Orchestra, Queensland Youth Orchestra (2017), Queensland Youth Orchestra Wind Symphony (2013), and the Brisbane Philharmonic Orchestra and its guest director John Curro (2014). The Chorale features regularly at prestigious Brisbane Venues including QPAC, City Hall, and St Stephen's and St John's cathedrals.
Recent repertoire has included the Henry Purcell Te Deum to the requiems of Johannes Brahms and Wolfgang Amadeus Mozart; Felix Mendelssohn's A Midsummer Night's Dream; Benjamin Britten's The Company of Heaven and Hymn to St Cecilia; Zoltán Kodály's Laudes Organi; Masses by Anton Bruckner, Antonín Dvořák and Josef Rheinberger; and other choral works by Parry, Stanford, Vaughan Williams, Stephen Leek and more.
The Chorale has performed in previous years with UQSO and several guest choirs, including Carl Orff's Carmina Burana (2015), William Walton's Belshazzar's Feast (2016), Gustav Mahler's Symphony No. 2 "Resurrection" (2017) and Gabriel Fauré's Requiem (2018).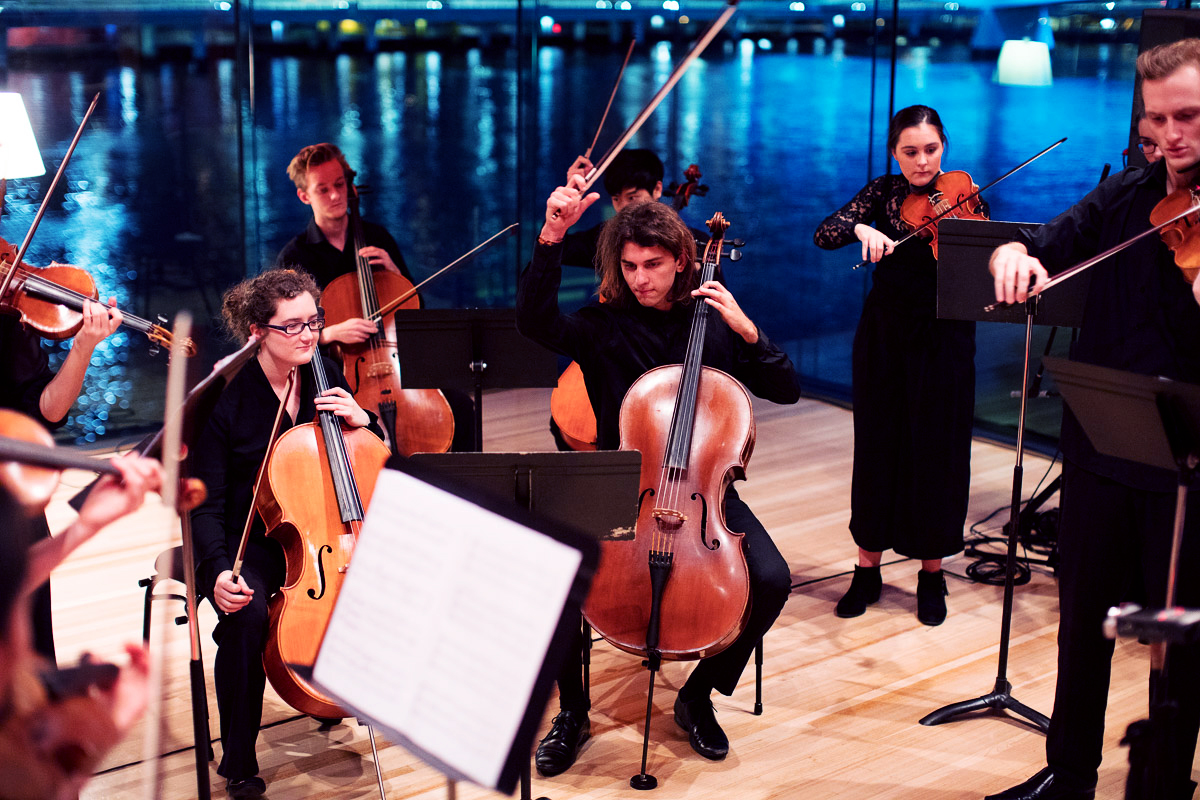 Pulse Chamber Orchestra
The Pulse Chamber Orchestra is an ensemble of selected School of Music string students directed by Patrick Murphy and Associate Professor Adam Chalabi. The orchestra performs unconducted, each member contributing to the artistic vision of the works. Pulse's eclectic repertoire ranges from masterworks of the string orchestra and string quartet genre, to transcriptions of Bartok's Mikrokosmos, to works of contemporary and past Australian composers.Pulse also collaborates frequently with choirs and vocalists, most notably in with The Choir of Temple Church in 2017, in performing liturgical repertoire including works of Bruckner, Rutter, CPE Bach, J .S. Bach and Benjamin Britten. Pulse regularly engages with school students through visits and tours in regional areas, including the 2017 Cairns tour (supported by the Kinnane Bequest) where they worked with over one hundred staff and students.
About 2019 UQ Music @ St John's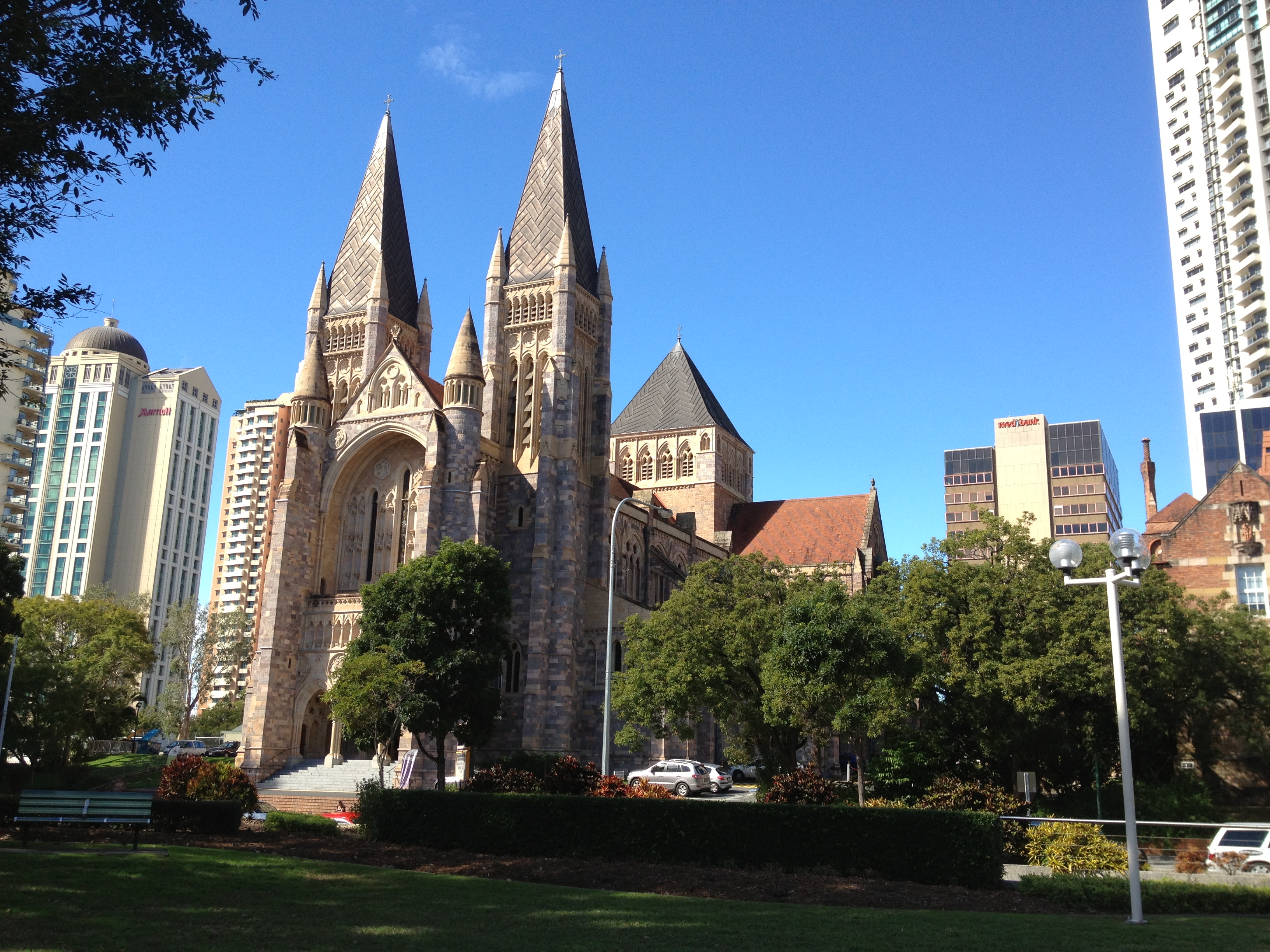 UQ Music @ St John's features performances by the UQ Chorale, Pulse Chamber Orchestra, UQ Chamber Singers, Andrew Goodwin, and Malcolm Stewart. 
The Cathedral is kindly offering our audience members complimentary coffee and cake from 10:00AM prior to each UQ Music @ St John's concert held at 11am, with the exception of the afternoon concert on 4 August 2019. Entry is free so come along and listen to the stars of tomorrow in the beautiful and serene setting of St John's Cathedral in the Brisbane CBD.
Venue
373 Ann St, Brisbane City QLD 4000