Vanessa Tomlinson and Nozomi Omote (feat. Viney-Grinberg Piano Duo)
10 October 2019

1:00pm

–

1:45pm
Program
Runaway Variations - Erik Griswold 
Visible Weapon - Matthew Hindson
Quartet for Two Pianos and Two Vibraphones - Steve Reich
Runaway Variations
I've been a hip hop fan since the eighties, when acts like Public Enemy and De La Soul were starting to take the form to new heights. When I found out that Liam Viney and Anna Grinberg shared my passion for some of this music, it seemed like a natural starting point for this project.
The single-note piano motif which begins Kanye West's "Runaway" is the starting point for my set of four movements.  Kanye's descending octave theme is treated in an eight-voice counterpoint, slowly cascading from right to left across the piano keyboards. In parts 2 & 3, pounding and relentless arpeggios seem to literally "run away" from the pianists (the speed at which they play part 3 is mind-boggling). To the two grand pianos I've added gongs, snare and kick drum in the outer movements, in order to extend the colour palette, as well as to evoke the beats of Kanye's original song (in part 4).
Runaway Variations is dedicated to the Viney-Grinberg Piano Duo.
Visible Weapon
Visible Weapon was written with the idea of confronting notions of violence in our society. We are constantly bombarded by violence in the media, including most action films and TV series, especially from the US in which solutions are found more often than not through the barrel of a gun.
In Visible Weapon I am responding to this culture of violence-without-consequences, of the glorification of triumph obtained via a brawn-over-brains mentality.
The piano parts link in with the pre-recorded parts using extremes of virtuosity, as well as occasional improvisation. It is meant as a bit of a tour-de-force for the pianists and was commissioned by Liam Viney and Anna Grinberg, to whom it is also dedicated.
Quartet
Quartet, when mentioned in the context of concert music, is generally assumed to mean string quartet. In my case, the quartet that has played a central role in many of my pieces (besides the string quartet) is that of two pianos and two percussion. 
The piece is one of the more complex I have composed. It frequently changes key and often breaks off continuity to pause or take up new material. Though the parts are not unduly difficult, it calls for a high level of ensemble virtuosity. The form is one familiar throughout history: fast, slow, fast, played without pause. The slow movement introduces harmonies not usually found in my music. Quartet was co-commissioned by Southbank Centre, Carnegie Hall, The Juilliard School, Cité de la musique, and Kölner Philharmonie / KölnMusik, and is approximately 17 minutes in duration.
COMPOSER BIOGRAPHIES
Erik Griswold
Erik Griswold is a composer and pianist working in contemporary classical, improvised, and experimental forms.  Particular interests include prepared piano, percussion, environmental music, and music of Sichuan province.  Originally from San Diego, and now residing in Brisbane, he composes for adventurous musicians, performs as a soloist and in Clocked Out, and collaborates with musicians, artists, dancers, and poets.
His music has been performed in Carnegie Hall, Sydney Opera House, Cafe Oto, Chengdu Arts Centre, Melbourne Festival, OzAsia Festival, and Brisbane Festival, among others.  He is a recipient of an Australia Council Fellowship in Music, a Civitella Ranieri Fellowship, and numerous individual grants. He has collaborated with musicians Steven Schick, Margaret Leng Tan, the Australian Art Orchestra, Decibel Ensemble, Zephyr String Quartet, Ensemble Offspring, and many others. His music can be heard on Mode Records, Innova, Room40, Move, Clocked Out and Immediata.
Together with Vanessa Tomlinson, Griswold directs Clocked Out, who create original music for prepared piano, percussion, found objects, and toys.  Their albums include Time Crystals, Foreign Objects, Water Pushes Sand, and Every night the same dream. Clocked Out also produces innovative concert series, events and tours, for which they have received the APRA-AMCOS Award for Excellence by an Organisation (2011) and two Green Room Awards (2000).
Matthew Hindson
Matthew Hindson AM (b. 1968, Wollongong) is one of the most-performed and most-commissioned composers in the world, and a leading Australian composer of his generation. As well as being performed by every Australian orchestra, the London Philharmonic, the Los Angeles Philharmonic and the Royal Philharmonic among many others, Matthew's music has been set by dance companies such as the Birmingham Royal Ballet, San Francisco Ballet, National Ballet of Japan and the Sydney Dance Company.

Matthew is the Deputy Dean and Associate Dean (Education) at the Sydney Conservatorium of Music. From 2004-2010 he was the artistic director of the Aurora Festival which is dedicated to the work of living composers. In 2006 Matthew was made a member of the Order of Australia (AM) for his contributions to music education and composition. From 2009-2013 Matthew was the Chair of the Music Board of the Australia Council for the Arts, and from 2013-2015, a board member of the same organisation.
Steve Reich
Steve Reich has been called "America's greatest living composer" (Village Voice), "the most original musical thinker of our time" (The New Yorker), and "among the great composers of the century" (The New York Times). His music has influenced composers and mainstream musicians all over the world. Music for 18 Musicians and Different Trains have earned him two Grammy Awards, and in 2009, his Double Sextet won the Pulitzer Prize. Reich's documentary video opera works—The Cave and Three Tales, done in collaboration with video artist Beryl Korot—have been performed on four continents. His recent work Quartet, for percussionist Colin Currie, sold out two consecutive concerts at Queen Elizabeth Hall in London shortly after tens of thousands at the Glastonbury Festival heard Jonny Greenwood (of Radiohead) perform Electric Counterpoint followed by the London Sinfonietta performing his Music for 18 Musicians.
In 2012, Reich was awarded the Gold Medal in Music by the American Academy of Arts and Letters. He has additionally received the Praemium Imperiale in Tokyo, the Polar Music Prize in Stockholm, the BBVA Award in Madrid, and recently the Golden Lion at the Venice Biennale. He has been named Commandeur de l'Ordre des Arts et des Lettres, and has been awarded honorary doctorates by the Royal College of Music in London, the Juilliard School, the Liszt Academy in Budapest, and the New England Conservatory of Music, among others. "There's just a handful of living composers who can legitimately claim to have altered the direction of musical history and Steve Reich is one of them," states The Guardian.
PERFORMER BIOGRAPHIES
Vanessa Tomlinson
Vanessa is a percussive artist dedicated to exploring how sound shapes our lives through composition, performance, writing and teaching. With a long history in experimental music, Vanessa uses this body of knowledge to consider how we listen through site-specific explorations of space and place, and our potential to explore new ideas through sound. Trained as a percussionist in Adelaide, Freiburg, Germany and University of California, San Diego, Vanessa relies on this sonic investigation of objects to build compositions, create contexts for improvisation, and collaborate across art-forms and disciplines. She has toured the world for 25 years, premiering over 100 works by significant national and international composers, presenting work at major international festivals, and collaborating with improvisers, dancers, artists and more.
Vanessa has been awarded many national APRA/AMC Awards in Experimental Music, Excellence as an Individual, and Excellence by an Organisation, 2 Green Room Awards, an Aria nomination for Water Pushes Sand (2018), and prestigious opportunities including Civatelli Ranieri Residency in Italy, Banff Residency in Canada, Australia Council Project Fellowship, and Asialink Residency in China.
She has been on the faculty of the Queensland Conservatorium of Music for 15 years, transforming the field of percussion in Australia, helping to define the field of Artistic Practice in music internationally, and pioneering the performer/composer, interpreter/improviser pathway for students. She is Professor of Music, and Deputy Director of the Queensland Conservatorium Research Centre.
Nozomi Omote
Japanese born percussionist Nozomi Omote is an active freelancer and educator based in Brisbane. She has worked with the Queensland Symphony Orchestra, Melbourne Symphony Orchestra, Camerata Queensland's Chamber Orchestra, Auckland Philharmonia Orchestra, Orchestra Ensemble Kanazawa, Clocked Out, Speak Percussion,
Southern Cross Soloists and Ensemble Trivium. She has performed at focus days for the Percussive Arts Society International Convention in Texas as a member of percussion group Early Warning System in 2015. She has actively attended several percussion research symposiums including the Roots and Rhizomes at UCSD in 2007, the Australian Percussion Gathering in 2010 and 2016, and Transplanted Roots in 2017. Nozomi decided to move to Australia to seek further musical study after encountering her mentor Thomas O'Kelly in Japan. She currently holds a master of music studies from Griffith University Queensland Conservatorium and a Bachelor of Education from Kanazawa University in Japan. She received the Hokuriku young performer prize and the Ishikawa prefecture new artist scholarship in 2004, and the Griffith Award for Academic Excellence in 2005.
She has been under the tutelage of Prof. Vanessa Tomlinson and Thomas O'Kelly. She also has been mentored by Evelyn Glennie, Robert van Sice, Bogdan Bacanu, Fritz Hauzer, David Hewitt, David Jones and Mutsuko Taneya. Nozomi has taught at several institutions including the Percussion Department at the Queensland Conservatorium, Queensland College of Music, Just Percussion and Queensland Youth Orchestra. She has given masterclasses and workshops at primary and high schools around Brisbane, Melbourne University and University of QLD.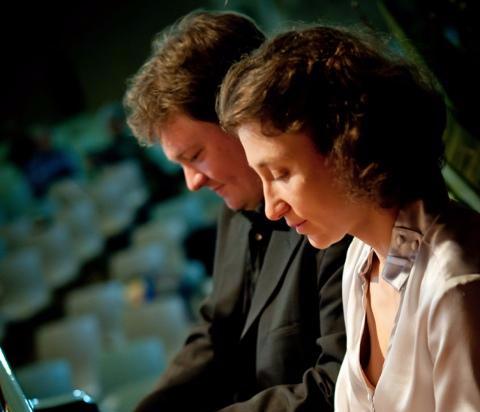 Viney-Grinberg Piano Duo
The Viney-Grinberg Piano Duo enjoys an international profile in duo piano performance and scholarship as one of the Ensembles-in-Residence at the University of Queensland. While maintaining a performance career involving festivals, major series, live radio broadcasts, and orchestras, Dr Liam Viney and Dr Anna Grinberg also translate their experience into music performance research and teaching practice through the UQ Creative Collaboratorium.
The Duo's innovative and creative approach has resulted in collaborations with composers, artists, dancers, choreographers and other established performing ensembles - as well as book chapters, articles and scholarly seminars and presentations. The duo is committed to exploring classics of the two-piano repertoire, but also contributes to the ongoing expansion of that literature through commissioning composers - fifteen new works have been written for them to date, and they have performed world and Australian premieres of music by composers such as Matthew Hindson, John Adams and Arvo Part.
The Viney-Grinberg Duo have released Four Hands - Australian Music for Piano and Invisible Dancers on the ABC Music label. 
Venue
Zelman Cowan Building, St Lucia Campus, UQ