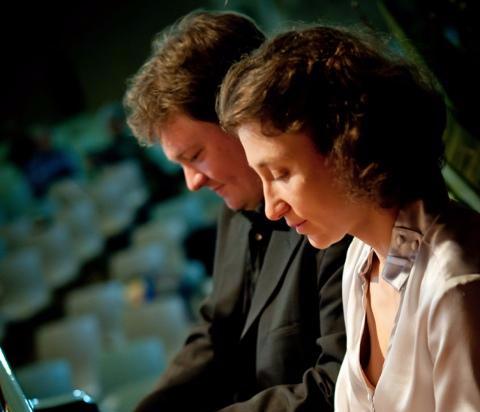 The Viney-Grinberg Piano Duo enjoys an international profile in duo piano performance and scholarship as one of the Ensembles-in-Residence at the University of Queensland. While maintaining a performance career involving festivals, major series, live radio broadcasts, and orchestras, Dr Liam Viney and Dr Anna Grinberg also translate their experience into music performance research and teaching practice through the UQ Creative Collaboratorium.
The Duo's innovative and creative approach has resulted in collaborations with composers, artists, dancers, choreographers and other established performing ensembles - as well as book chapters, articles and scholarly seminars and presentations. The duo is committed to exploring classics of the two-piano repertoire, but also contributes to the ongoing expansion of that literature through commissioning composers - fifteen new works have been written for them to date, and they have performed world and Australian premieres of music by composers such as Matthew Hindson, John Adams and Arvo Part.
The Viney-Grinberg Duo have released Four Hands - Australian Music for Piano and Invisible Dancers on the ABC Music label. 
About Australasian Piano Pedagogy Conference 2019
This biannual conference returns to Queensland after recently coming to the regional centre of Toowoomba in 2013. The 2019 Conference will be hosted by the School of Music, University of Queensland, St. Lucia, and will bring together pianists, studio teachers, students, scholars, piano enthusiasts and composers from across Australia and beyond.
The Organising Committee is delighted to announce our keynote speakers and performers: Professor Joanna MacGregor (Head of Piano, Royal Academy of Music, London), John Bloomfield (Golandsky Institute, New York), Professor Neal Peres da Costa (The University of Sydney), Dr Erin Helyard (The University of Melbourne), Dr Liam Viney and Dr Anna Grinberg (The University of Queensland), Mr Phillip Keveren (USA) and Emeritus Professor David Lockett (The University of Adelaide).
The 2019 conference focus is Variations on a theme: The portfolio piano teacher. The keynote speakers and session presenters will discuss a vast array of topics related to knowledge and skills needed for 21st century piano teaching. New Australian compositions will be premiered during the conference, including the winning compositions of the APPC 2019 Young Composer Competition.
Kawai is generously supporting the conference once again by supplying all the pianos. Hal Leonard will be delivering their very popular Solutions Stream of events. The School of Music, University of Queensland, is kindly providing access to its facilities, performance staff and promotional support.
We wish to thank Piers Lane AO for his continuing patronage of APPC Conferences and offer our special gratitude to Max Olding and Pamela Page for their patronage of the 2019 APPC Conference.
You will be able to follow developments through this website and other media such as Facebook. We hope you will use social media to spread the word and encourage colleagues to attend.
Venue
Advanced Engineering Building, St. Lucia Campus, The University of Queensland