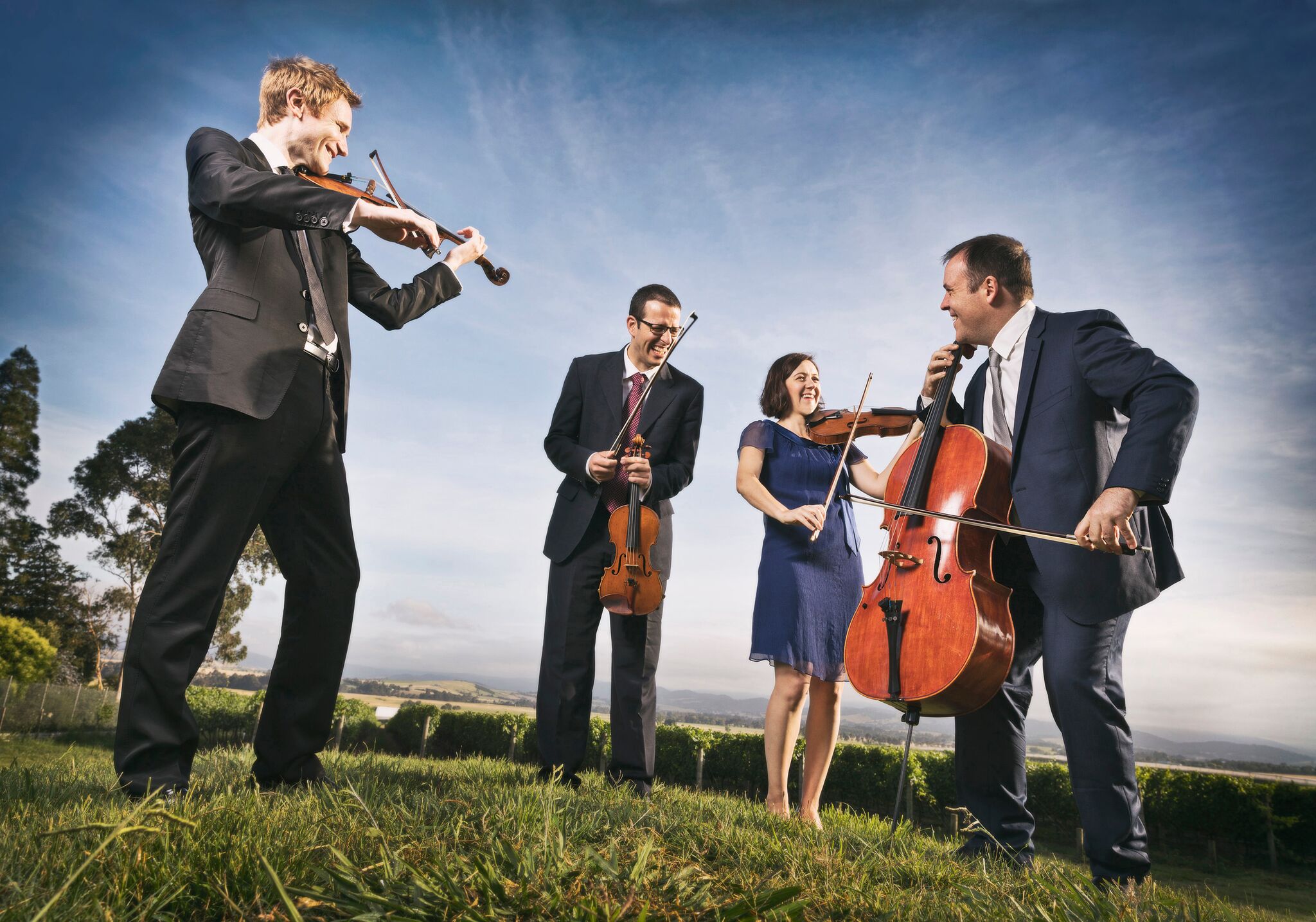 Internationally acclaimed for its 'addictive sound', 'intuitive' music making and 'technical virtuosity', the Tinalley String Quartet (TSQ) has established itself as one of Australia's finest string quartets and most awarded classical music exports.

Now in its 16th year, the Tinalley String Quartet was awarded the Grand Prize of the 2005 Australian Chamber Music Competition, and captured the world's attention in 2007 when it was awarded First Prize at the prestigious 9th Banff International String Quartet Competition. The Quartet has performed throughout Australia, Europe, Canada and United States, appearing in such prestigious venues as the Vienna Musikverein, Berlin Konzerthaus, Amsterdam Concertgebouw, Bremen Die Glocke, Frankfurt AlteOper and the Sydney Opera House. International highlights have included performances in New York, Paris, London, Toronto, Vancouver, San Francisco and San Diego. The Quartet remains the only Australian ensemble to have been presented in the preeminent Berlin Konzerthaus International String Quartet Series and the Jeunesse Musik Erleben Series at the Musikverein.

In Australia, the Quartet has appeared at the nation's premier festivals including the Australian Festival of Chamber Music, the Melbourne International Arts Festival, the Canberra International Music Festival, the Perth International Arts Festival, the Adelaide Festival, the Tasmanian Chamber Music Festival, the Huntington Festival, the Port Fairy Festival and the Coriole Festival.

In addition to performing the great masterpieces of the quartet repertory, the Quartet has a passion for collaborating with artists outside of the classical sphere. Such projects have included appearances at the Perth International Arts Festival with UK jazz pianist Gwilym Simcock and 'Beethoven's Letters', a musical narrative that interweaves the quartets of Beethoven with his own writings, with acclaimed Australian actors John Bell and John Stanton. More recently, Tinalley commissioned the reimagining of the orchestral song cycle 'Compassion' by Nigel Westlake and singer/songwriter Lior for chamber septet and voice which was premiered at the 2018 Adelaide Festival. In 2019, the Quartet will premiere a new commission by Australian composer, Mary Finsterer.

In 2018 Tinalley released its first recording with DECCA Classics of the Ravel and Debussy String Quartets. In 2019, the Quartet released its second album with DECCA featuring the Opus 12 and 13 Quartets of Felix Mendelssohn and a reimagined collection of Mendelssohn songs, reimagined by Calvin Bowman for Tinalley and Australian soprano, Greta Bradman. This release is the first of three new albums Tinalley will release with DECCA Classics over the next two years featuring the complete string quartet catalogue of Felix Mendelssohn.

The Quartet is currently Quartet-in-Residence at the University of Queensland, where it works closely with
students at the School of Music as both chamber music and performance mentors and engages with the broader University community through performance.

The Tinalley String Quartet is named after the laneway that runs through The University of Melbourne Parkville Campus where the Quartet formed.


Mendelssohn Program
4 Pieces for String Quartet op.81
String Quartet no.6 in F Minor op.80
Allegro vivace assai
Allegro assai
Adagio
Finale: Allegro molto
INTERVAL (10mins)
String Quartet no.3 in D Major op.44/1
Menuetto: Un poco Allegretto
Andante espressivo ma con moto
Presto con brio
Venue
399 Queen St, Brisbane City QLD 4000