Exploring the textures and melodic webs possible with the double bass, this concert will feature the solo double bass and its transformation through layering its sound on itself.
The music focuses on new takes on time-honoured polyphonic/contrapuntal part writing, as well as the boundaries between harmony and texture, creating dense tapestries of sound. The compositions presented will respond to artworks in the UQ Art Museum's current exhibition, Music of Spheres.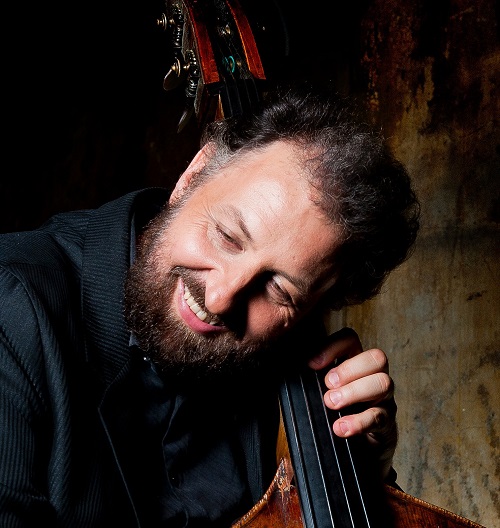 Robert Davidson is a prolific composer, bassist, lecturer and founder and artistic director of Topology. Davidson studied composition with Terry Riley in California before completing a composition PhD at the University of Queensland. He previously studied South Indian vocal music in Kerala, India. Davidson's compositions are regularly performed, recorded and broadcast around the world, in venues including New York's Lincoln Center, Sydney's Opera House, Melbourne's Recital Centre and London's Barbican. All of Australia's professional orchestras and many leading soloists and ensembles have commissioned and performed his works. With Topology he has released 14 albums and a DVD, and has directed numerous artistic collaborations.
 
Robert Davidson - We Apologise (Sung by Australian Voices)
About 2020 UQ Art Museum Series
In 2020 the School of Music has continued to collaborate with the UQ Art museum; presenting concerts that feature alumni and staff working in the genres of electro-acoustics, structured improvisation, electronic dance music, and contemporary classical music. The series fosters an ongoing partnership between our two prestigious institutions and supports interdisciplinary projects within the arts at UQ. 
Find out more about the 2020 UQ Art Museum Exhibitions
July - November: Conflict in My Outlook: We meet online and Occurrent Affair: proppaNOW
Connect with the UQ Art Museum
Venue
bit.ly/UQVirtualConcert09Sep
Room:
Livestream Concert: UQ Art Museum