Internationally acclaimed for its 'addictive sound', 'intuitive' music making and 'technical virtuosity', the Tinalley String Quartet (TSQ) has established itself as one of Australia's finest string quartets and most awarded classical music exports.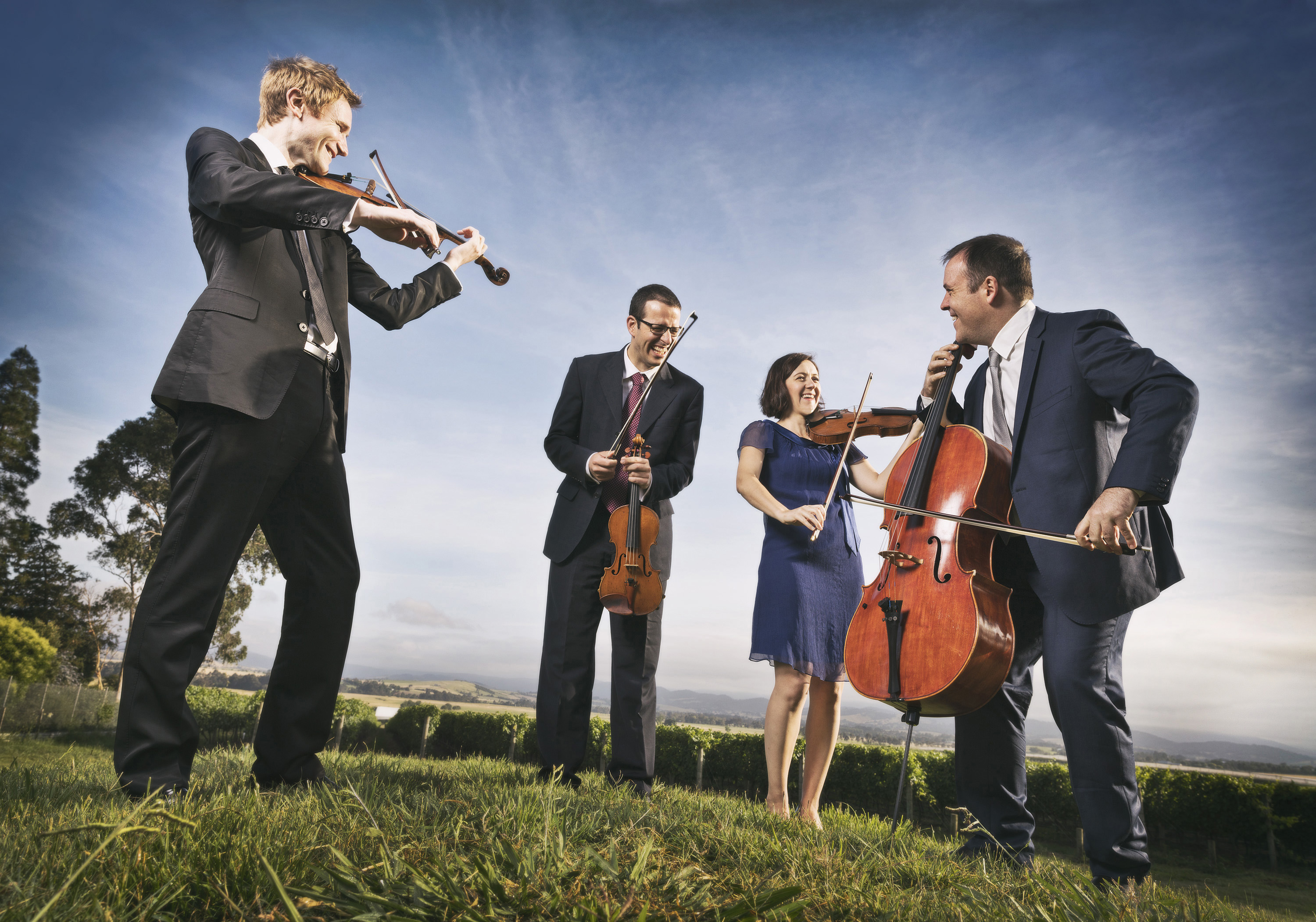 Now in its 15th year, the Tinalley String Quartet was awarded the Grand Prize of the 2005 Australian Chamber Music Competition, and captured the world's attention in 2007 when it was awarded First Prize at the prestigious 9th Banff International String Quartet Competition. The Quartet has performed throughout Australia, Europe, Canada and United States, appearing in such prestigious venues as the Vienna Musikverein, Berlin Konzerthaus, Amsterdam Concertgebouw, Bremen Die Glocke, Frankfurt AlteOper and the Sydney Opera House. International highlights have included performances in New York, Paris, London, Toronto, Vancouver, San Francisco and San Diego. The Quartet remains the only Australian ensemble to have been presented in the preeminent Berlin Konzerthaus International String Quartet Series and the Jeunesse Musik Erleben Series at the Musikverein.
In Australia, the Quartet has appeared at the nation's premier festivals including the Australian Festival of Chamber Music, the Melbourne International Arts Festival, the Canberra International Music Festival, the Perth International Arts Festival, the Tasmanian Chamber Music Festival, the Huntington Festival, the Port Fairy Festival and the Coriole Festival.
In addition to performing the great masterpieces of the quartet repertory, the Quartet has a passion for collaborating with artists outside of the classical sphere. Such projects have included appearances at the Perth International Arts Festival with UK jazz pianist Gwilym Simcock and 'Beethoven's Letters', a musical narrative that interweaves the quartets of Beethoven with his own writings, with acclaimed Australian actors John Bell and John Stanton. In 2018, the Quartet has commissioned the reimagining of the orchestral song cycle 'Compassion' by Nigel Westlake and singer/songwriter Lior for chamber septet and voice which will be premiered at the 2018 Adelaide Festival.
The Quartet's 2018 season features appearances at the Adelaide Festival, Coriole Festival, Tasmanian Chamber Music Festival, City Recital Hall Angel Place and Port Fairy Festival. The Quartet will serve on the faculty of the Australian Youth Orchestra Chamber Players and begins a new collaboration with the University of Queensland as quartet-in-residence. The Quartet will also release its first recording with the DECCA label of the Ravel and Debussy String Quartets, in honour of the centenary of Debussy's death.
The Tinalley String Quartet is named after the laneway that runs through The University of Melbourne Parkville Campus where the Quartet formed.
The Quartet is honoured by the Vice Regal Patronage of His Excellency General The Honourable David Hurley AC DSC (Ret'd) Governor of New South Wales.
About 2020 School of Music Virtual Concert Series
The School of Music is proud to present a series of world class live-streamed concerts and music based presentations from the Nickson Room on selected Fridays at 1-2pm AEST involving our performance and academic staff together with current and past UQ students and invited guest artists.

If you would like to receive regular updates on School of Music events, consider signing up to our Friends of Music Newsletter. 

We are excited to offer this - and all livestreamed concerts - to our entire community free of charge. However, we hope you will consider making a gift to the Friends of Music Scholarship Fund, which supports our student musicians.

Friends of Music Scholarship Fund
Venue
URL to be published 2 weeks prior to the concert