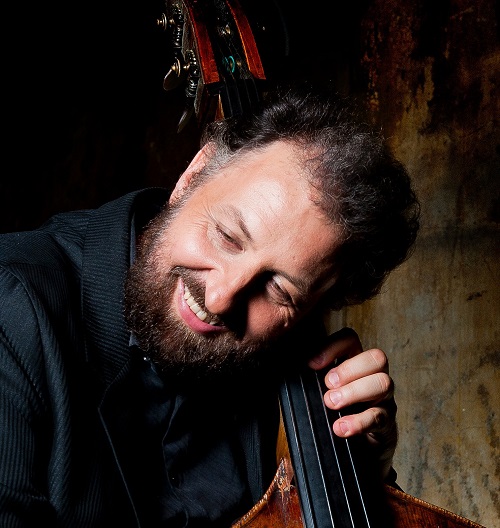 "I perform as a composer, rather akin to a songwriter singing their own songs instead of giving them to a golden-voiced soloist. I'm here to share my private musical journal of personal contemplations and thoughts that I return to most days. My professional instrument is the double bass, but the piano (and the guitar) are my faithful companions in finding what's going on for me day to day." Robert Davdison
Robert is a prolific composer, bassist, lecturer and founder and artistic director of Topology, the ensemble-in-residence at the Brisbane Powerhouse and a Key Organisation funded by the Australia Council. Robert's compositions are regularly performed, recorded and broadcast around the world. All of Australia's professional orchestras and many leading soloists and ensembles have commissioned and performed his works. He has received many commissions for major works from festivals and venues including the Barbican Centre, Lincoln Center, Qld Music Festival, Brisbane Festival, Sydney Festival, Olympics Arts Festival, Canberra International Music Festival and many others. With Topology he has released twelve albums and a DVD. He has collaborated widely, with artists including Geoffrey Rush, The Brodsky Quartet, The Kransky Sisters, Gerry Connolly, Kate Miller-Heidke, Katie Noonan, Ed Kuepper, the Southern Cross Soloists, Trichotomy and The Australian Voices.
Repertoire
Leaving home

Diary page

Melody for Julia

Melody for Alison

Melody for Ale

Wandering mind

Out of silence

Beyond the shadow

Music lesson

Melody for Jackie

Melody for Ellie-Lea

Not now not ever

Melody  for Rebecca

Give or take

Twenty twenty

Returning home
About 2022 Live at UQ Concert Series
The University of Queensland, School of Music is proud to present our Concert Series for 2022. In reflecting the School's role in the broader South-East Queensland community, we have designed a diverse and exciting program. With established international and national artists performing, as well as our own emerging student artists, this year is set to be a vibrant, creative, and energetic time at the UQ School of Music. We look forward to connecting with you, as you explore this concert series, listen to our streamed and recorded concerts, and visit us at the St Lucia campus or browse through our website. 
Venue
bit.ly/UQVirtualConcert14Apr