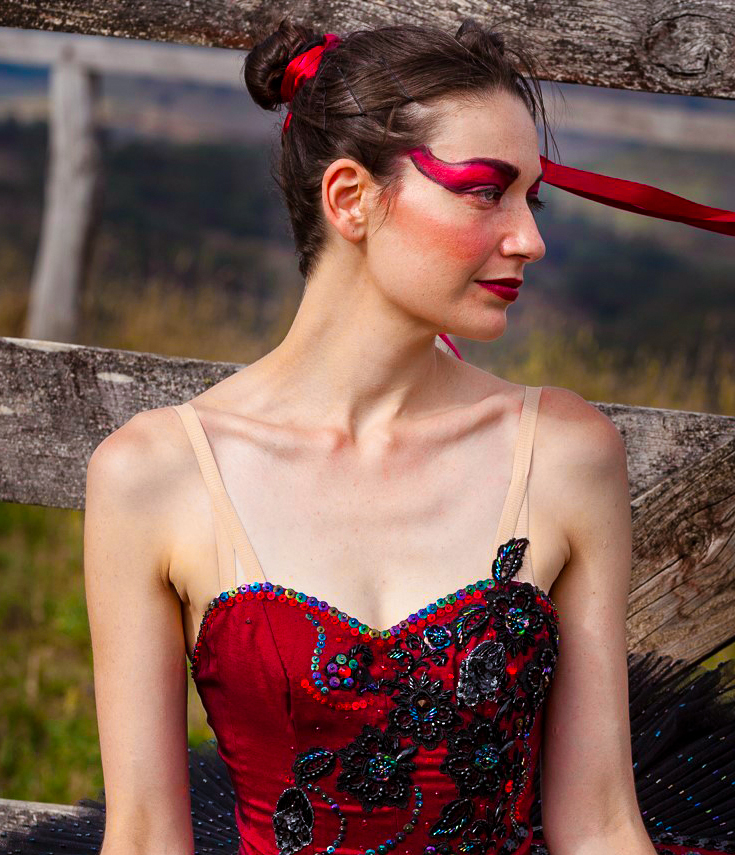 Associate Professor Eve Klein is an award-winning composer, mezzo soprano, sound artist and academic. She designs large-scale, immersive art music experiences for festivals. Dr Klein's music has been described as: "contemporary music at its most relevant – simultaneously inward and outward focused in addressing the challenge of its existence and its capacity to produce something great" (Cyclic Defrost). Drawing together traditional and experimental classical music, interactive performance art, and electronica, Dr Klein pushes the boundaries of genre to find new ways of immersing contemporary audiences in art music forms. She holds a PhD in Music and Sound and is a Senior Lecturer in Music Technology and Popular Music at The University of Queensland School of Music. Dr Klein is also an Ableton Live Certified Trainer.
Dr Klein is currently leading a VR/AR music research cluster at The University of Queensland where she is guiding postgraduate composers on the creation of virtual reality and augmented reality concert works and operas. Other research explores human computer interaction design and its impact on music performance and composition; classical music recording practices; environmental sound recording; and technology-enabled performance. Her article 'Performing Nostalgia on Record: How Virtual Orchestras and YouTube Ensembles Have Problematised Classical Music' was awarded the International Association for the Study of Popular Music 2016 Open Publication Prize for Australia and New Zealand. Previous research has explored contemporary opera composition, femininity and vocality in Australian country music, DIY CD production in Australian music subcultures, and the role of music-making in the Maltese-Australian community. Dr Klein is currently a peer reviewer for IASPM International, Musicology Australia, Arts Tasmania and the Australia Council for the Arts.
Dr Klein's artistic work has featured at international festivals and venues including MONA FOMA, VIVID Sydney, Brisbane Festival, Salisbury Cathedral, Underbelly Arts, the Melbourne Arts Centre and New York University. Dr Klein's recordings have been released on Wood and Wire, New Weird Australia, and Feral Media. As a mezzo soprano she has appeared as a principal artist with Opera Australia and Pacific Opera. Dr Klein is known for her electronic opera The Pomegranate Cycle which asks its audience to comprehend how women heal from violence. The album version has been downloaded over 60,000 times since its release and was a finalist for Vocal Work of the Year in the 2014 Australian Art Music Awards.
Dr Klein's recent artwork explores the intersection of the body, technology, mass datasets and social justice. An example is Counting 2015, a multimedia work using crowdsourced video and collaboratively curated datasets to highlight the affective quality of numbers in online social justice campaigns. This work asked Facebook participants to reflect upon the human consequences of numbers they encounter online. In this way the composer acts as curator of a discussion in online communities, where participants are both audience members and performer-collaborators.
Dr Klein collaborates with festivals, scientists, artists and researchers to develop cross-disciplinary performance experiences. Her work Vocal Womb is an example of this practice, being the first work of its kind to deploy laryngoscopy during real time performances for a live audience. Vocal Womb allows its audience to explore the relationship between voice, identity and power by stepping into, and directly manipulating, the voice of another. The premier was called the "#1 coolest thing at MOFO 2018…" (Timeout Melbourne) and "One of the must-see music/art works of the 2018 festival… a deeply considered engagement with the history and traditions of opera" (The Conversation).
Dr Klein is also considered a specialist in tertiary learning design and has developed curriculum for five Australian tertiary institutions. She was the 2017 Institute for Teaching and Learning Innovation Humanities and Social Sciences Fellow at The University of Queensland investigating best-practice strategies for enhancing epistemic fluency and collaborative learning experiences across the Bachelor of Arts degree. Dr Klein was also the recipient of a Technology Enhanced Learning award for 2016 which enabled her to redesign the music technology program in The University of Queensland School of Music with an employability and creative music making focus. This included founding the Touch Ensemble, a technology-based performance ensemble which upskills classical musicians and music educators by teaching them improvisation, composition and performance skills using tablet, laptop and networked audio devices. Students in this ensemble collaborate with students from Interaction Design Engineering to user test new hardware instruments and performance controllers in development. Dr Klein won the Faculty of Humanities and Social Sciences Program Innovation Award in 2018 for this work.
About 2022 Live at UQ Concert Series
The University of Queensland, School of Music is proud to present our Concert Series for 2022. In reflecting the School's role in the broader South-East Queensland community, we have designed a diverse and exciting program. With established international and national artists performing, as well as our own emerging student artists, this year is set to be a vibrant, creative, and energetic time at the UQ School of Music. We look forward to connecting with you, as you explore this concert series, listen to our streamed and recorded concerts, and visit us at the St Lucia campus or browse through our website. 
Venue
bit.ly/UQVirtualConcert8Sep2022