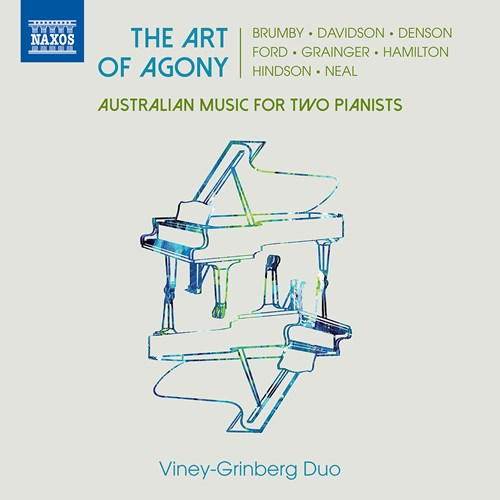 The UQ School of Music's ensemble-in-residence Viney-Grinberg Duo are releasing a new album on the Naxos label on 4 December.
Titled The Art of Agony, the CD will feature eight premiere recordings of Australian music for two pianists, including seven works recently commissioned by the Duo.
The album aims to demonstrate the versatility of music for two pianists, with pieces ranging from duets on a single piano to Mill Life, in which 22 pianos are overdubbed in a studio setting.
"We've been commissioning works for this album over the last 10 years," Professor Liam Viney said. 

"The concept was based on a question: 'How can we encourage and work with composers to push the boundaries of possibilities on two pianos?'. Two pianists bring twenty fingers to two full-range piano keyboards, so the potential for musical complexity is significant , and this seems to open composers' minds up to new musical thinking and ideas."
Recorded in the Nickson Room at The University of Queensland, the album was recorded by David Spearritt, a recording engineer with a track record of capturing  beautiful piano sound.
The duo also worked with UQ's music technology specialist Chris Perren, who tracked the 22 overdubbed pianos for Mill Life; helping the duo to realise their vision for the soundworld in post-production.
"Mill Life [was] originally written by Louise Denson for the Piano Mill out at Stanthorpe, which has 16 pianos in a purpose-built "mill", and was a lot of fun to adapt for two pianists," Professor Viney said.  
"We wanted to re-create the sound of the original version at the Piano Mill had, where many of the pianos are in a state of disrepair, so the sound needed to be huge, clangourous, industrial, and very much not in tune."
Other highlights on the album include Visible Weapon, pairing virtuoso velocity with electronics, and The Art of Agony – a musical picture frame for Percy Grainger's spoken voice, by The University of Queensland's very own Robert Davidson.
Dr. Anna Grinberg is excited that The Art of Agony stands out from their previous releases, "This is probably our most diverse album in that it involves an array of different ways to approach duo pianism, such as electronic accompaniment, playing piano and percussion at the same time, bits of improvisation, and one track where we play 22 pianos at one time."
The Art of Agony also premiers a recording of a work by Colin Brumby, a former Professor and Head of the School of Music at The University of Queensland.
The Art of Agony was supported by an Australia Council for the Arts grant.