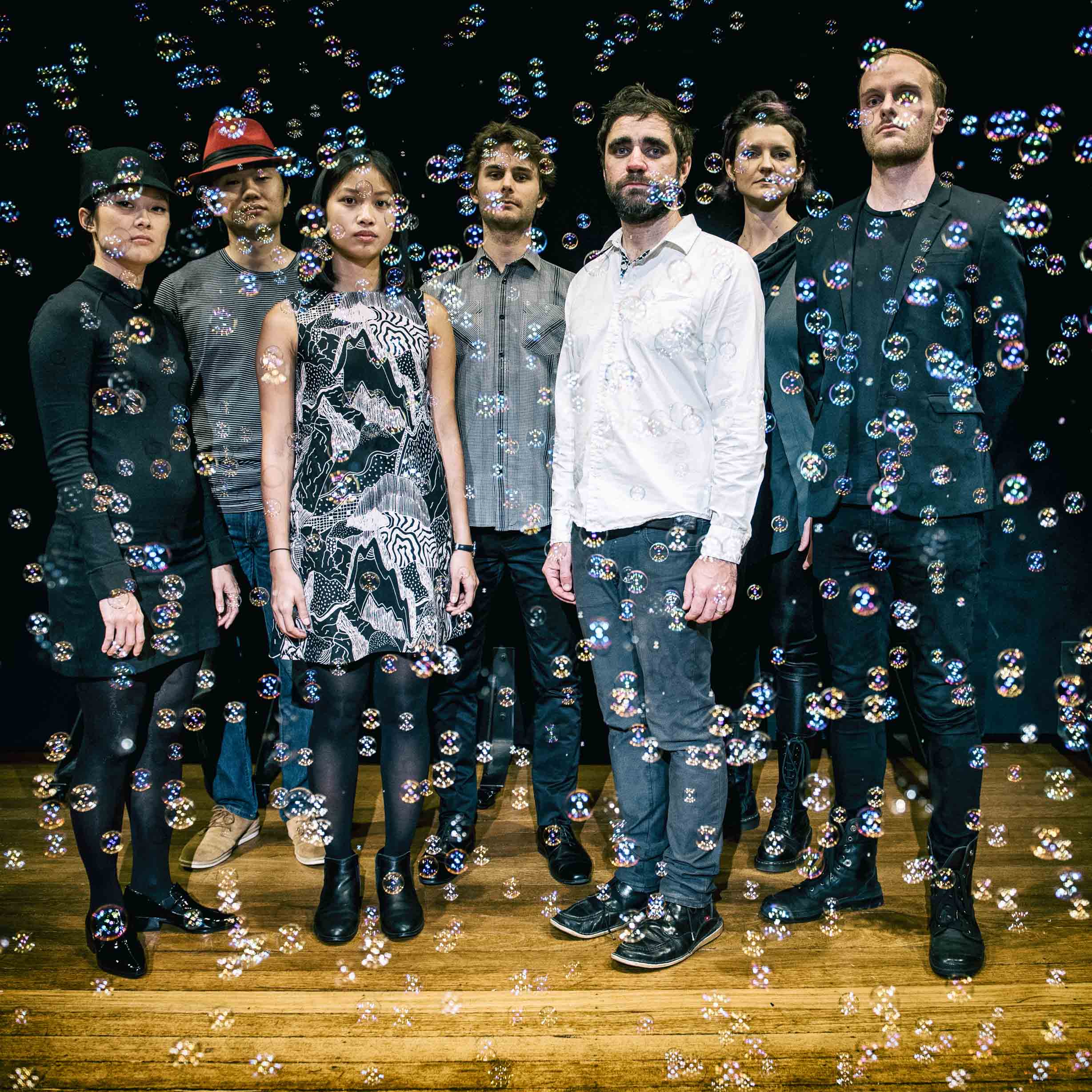 Nonsemble inhabit a space between contemporary classical and adventurous pop music, resulting in a diverse output that ranges from sprawling and evocative modern compositions to meticulously crafted chamber-pop. Since forming in 2012, they've released two critically acclaimed albums and an EP, played alongside Sigur Ros and Beck at Harvest Festival, were invited to play and talk at TEDxBrisbane, and have toured across Australia, featuring performances at Tasmania's MONA and Sydney's City Recital Hall.
A septet consisting of piano, string quartet, drums and guitar (plus the occasional blast of electronics), the group's musical backgrounds are as varied as their output: classically trained instrumentalists, seasoned rock players, and electronic tinkerers, whose musical interests range from obscure electronica and instrumental math-rock to early baroque music. This unique setup and blend of influences provides for a wide palette of sounds. Olafur Arnalds-esque lushness meets Joanna Newsom jubilance, while the shimmering brightness of minimalist composers such as Steve Reich and John Adams rubs shoulders with the intensity of Godspeed You Black Emperor or 65daysofstatic. Nonsemble have a penchant for the rhythmically complex, but theirs is a music where the heart always wins—often in spite of heavy doses of heady conceptualism.
Over two albums and and two EPs, they've earned a reputation for meticulously unified, yet viscerally compelling long-form work. Debut LP "Practical Mechanics", released on lofly records in 2012, distilled mid-century techno-optimism into a large-scale composition across 5 intricate movements. Their sophomore "Go Seigen vs. Fujisawa Kuranosuke" was released in 2015 on London label bigo & twigetti—a 30-minute work constructed from patterns of moves from a 1953 game of Go, the album was hailed as "a monumental contemporary classic" by CutCommon. 2016's Spaceship Earth EP, also on bigo & twigetti, saw the group side-step into the pop-song format, with five songs inspired by the failed modernism of the 20th century. Boasting guest vocals from prominent voices in Australia's indie rock scene, the EP was described as "some of the most immediate and inviting indie-pop I've heard this year" by 4ZZZ's Chris Cobcroft. Their most recent release, 2017's "CULTS", had the band celebrate their most loved reworkings of Radiohead, Sufjan Stevens and more.
This year, the group plan to make up for lost stage-time with a season of live shows. As well as their classic and much-loved 7-piece mode, the members of Nonsemble are exploring a more electronically-driven 5-piece formation. They look forward to showcasing new and original material for both as they head into a busy and creative 2021.