Current piano students are invited to apply for the inaugural Accompanists' Guild of Queensland Prize. This prize is for the best accompaniment of any voice or instrument, with prizes (1st place $150, 2nd place $50) to be awarded to the accompanist.
The finals for the competition will be held on Wednesday 9 May, beginning at 8:00pm with heats to be held as needed on Friday 3 May.
---
About the prize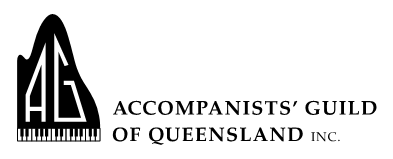 This prize has been established by the Accompanists' Guild of Queensland, particularly through the work of Dr Katie Zhukov.
The Accompanists' Guild of Queensland was set up in 1994 and incorporated in 1995 and is a not-for-profit organisation. The Guilds' objectives are to promote the status of the accompanist and to encourage and assist in establishing a unity of purpose and the maintenance of high ideals amongst accompanists in Queensland.