In 2020, an award of $150 will be offered to the best student piano collaborator performing in the finals of both the Margaret Nickson Prize for Voice and Piano and the Sleath Prize for String Performance.
Please see the websites for dates and times of these competitions.
---
About the prize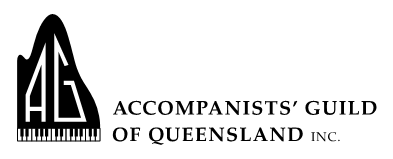 This prize has been established by the Accompanists' Guild of Queensland, particularly through the work of Dr Katie Zhukov.
The Accompanists' Guild of Queensland was set up in 1994 and incorporated in 1995 and is a not-for-profit organisation. The Guilds' objectives are to promote the status of the accompanist and to encourage and assist in establishing a unity of purpose and the maintenance of high ideals amongst accompanists in Queensland.