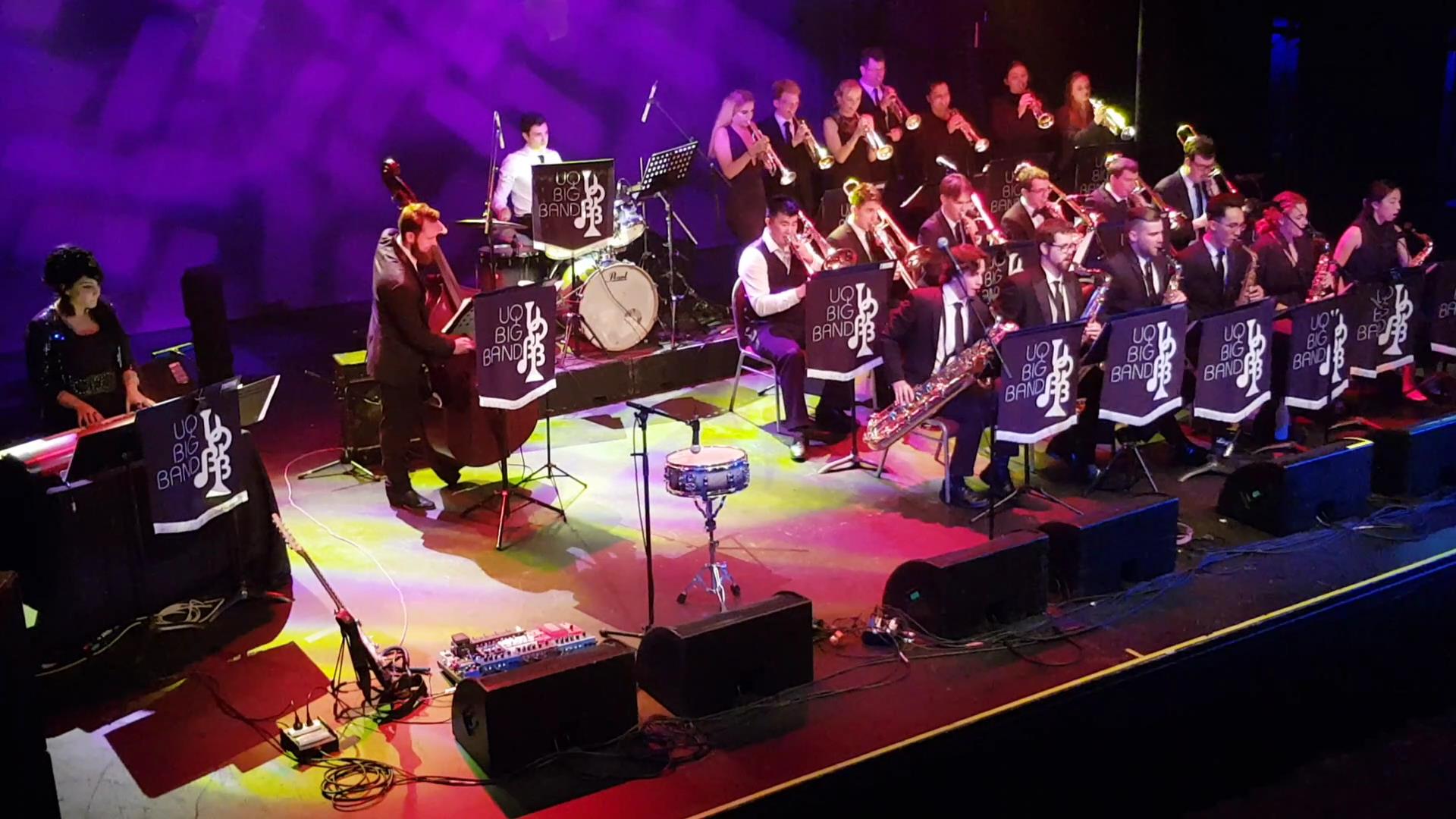 The UQ BIG BAND was established in 2007 and consists of students and alumni who major in a range of academic fields but share a passion for jazz and contemporary art music. The band is directed by Churchill Fellowship recipient Clint Allen, and has become one of the most innovative and aspiring large jazz ensembles in Australia, having premiered many new programs, especially in recent years.
The UQ BIG BAND has extensively performed the works of Radiohead, Frank Zappa, Bjork, Horst-Michael Schaffer (with the Jazz Bigband Graz, Austria), and German-based, singer/guitarist Monika Roscher.
In 2014, the UQ BIG BAND received glowing reviews for their performance of Markus Geiselhart's The Other Side of MozART, a work that involved jazz-infused reinterpretations of Mozart's works such as The Magic Flute, The Marriage of Figaro, the Jupiter Symphony, Alla Turca and the Requiem Mass, coupled with Mozart's letters written between 1777-1781 to his cousin Maria Anna Thekla.
In 2016, the UQ BIG BAND toured the USA, performing in Los Angeles, San Diego and New York. The band participated in workshops with Vincent Gardner and Bob Mintzer, and performed in concert with Gordon Goodwin at CalArts (Los Angeles) and Randy Brecker (Shapeshifter Lab, New York). They were also the first Australian Big Band to be featured at the New York International Music Festival, performing at Carnegie Hall.
In 2018, the UQ BIG BAND joined forces with LA-based Australian movie composer/drummer/conductor Tim Davies (La La Land, Trolls, Minions, Ant-Man, Empire, The Peanuts Movie, The Muppets, Lego Ninjago and Frozen) to perform a series of his Grammy-award winning compositions for Big Band.
The UQ BIG BAND have recorded several CDs and continue to perform at festivals, corporate functions, and jazz clubs across the state of Queensland. They've featured at the Bellingen Jazz Festival, Broadbeach Jazz Festival, Teneriffe Festival, Essentially Ellington Festival, Cane to Coral Charity Ball in Bundaberg, and the Wynnum Manly Jazz Festival, along with numerous performances at Doo-Bop and the Brisbane Jazz Club.