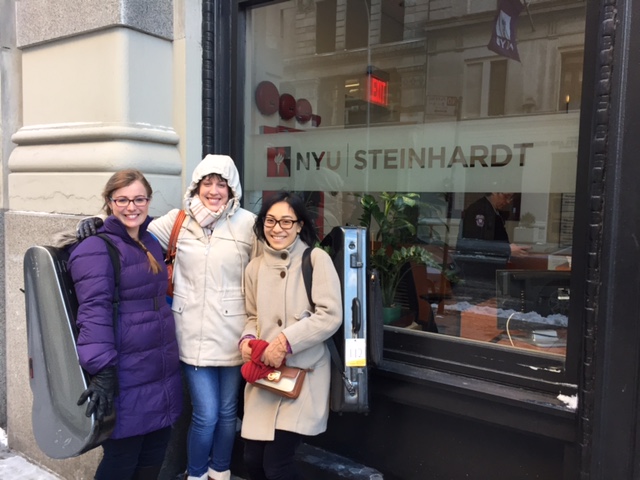 Staff and students of the School of Music started 2015 with five days of exhilarating masterclasses at New York University's Steinhardt School of Music.
Professor Patricia Pollett and Associate Professor Adam Chalabiaccompanied seven undergraduate and postgraduate music students to the Winter Strings Conference.
Three of the students who attended the conference were supported by Australian Government Department of Education Short Term Mobility Program scholarships, including Bachelor of Music student Sariah Xu, who found the experience transformative.
"I am a whole level above where I was before the trip in my playing, and I'm sure as a person too," Sariah said.
"We were in New York for a total of 12 days, and right from the outset Patricia, our teacher and mentor, made sure to encourage us to explore the city as much as we could," she said.
Sariah said it has always been Patricia's philosophy that students expose themselves to all fields of Art to influence their own artistic pursuit as musicians.
"For me, I was able to visit the Museum of Modern Art (MOMA), The American Museum of Natrual History, The Metropolitan Museum of Art (MET), not to mention Times Square, the famous Avenues, The Rockefeller Centre, Central Park, Washington Square Park and Chinatown in East Broadway."
"We went to a concert played by the New York Philharmonic, and to Broadway and saw Chicago," she said.
Along with the daily masterclasses, students got a talk from Cyrus Bekhounin and Sariah got two Alexander Technique lessons with Edward Malave, a set-up session with Claire Stefani, and a Five Rhythms class with Karen Ritscher.
"Through Claire I have been in touch with Gary Frisch, and through Karen I got in touch with Lukasz Wronski."
"Claire set me up with a new chin rest, and referred me to Gary who is a custom made chin rest maker," she said.
Lukasz is a violin maker, who completely changed the sound of Sariah's viola by changing the sound post, shaving her fingerboard and tweaking her tailpiece, as well as suggesting different brands of strings.
"I have had a few phone calls to Gary discussing promoting the use of the body with musicians, and how it starts with the set-up," she said.
Sariah said all these people are outstanding specialists in their field - and to have had their input, and gained some of their knowledge is the reason why she is on a whole new level above in her approach to playing before the New York Trip.
"There is so much that I have been thinking about - and I think it is going to turn into my thesis - I would love to share my thoughts with anyone who would be interested!"
"Finally, I would like to thank The University of Queensland for supporting us to take on the expedition - exchanging and gaining knowledge from other Universities only makes both parties stronger."