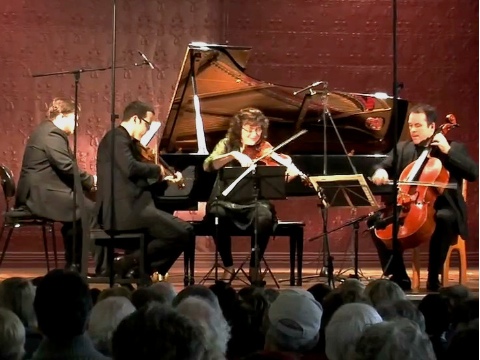 The School of Music celebrates the start of the academic year with the launch of the 2016 concert series.
Associate Professor Adam Chalabi, concerts convenor for the School of Music, reflected on the schedule of more than 50 concerts taking place across eight months from March to November.
Download the School of Music 2016 Concert and Events Guide
"The series is an exciting mixture of established artists on the Australian and world music making scene and up-and-coming performers who are about to make the breakthrough and become really established performers," he said.
"We're really fortunate at UQ to be able to include world-class members of the School as part of the series, including our Ensembles in Residence and teachers such as Irit Silver and Malcolm Stewart."
The series begins with performances in consecutive weeks by the School of Music's ensembles in residence, White Halo Ensemble and the Viney-Grinberg Piano Duo.
"In this appearance White Halo demonstrates its versatility with a selection of duo and trio repertoire," Associate Professor Chalabi said.
"The next week, Viney-Grinberg Piano Duo begin their year with an exciting mix of eclectic new compositions and favourites from the piano duo repertoire," he said.