Sulcus Loci Initiated by The University of Queensland's Art Museum as part of a broader program to engage students and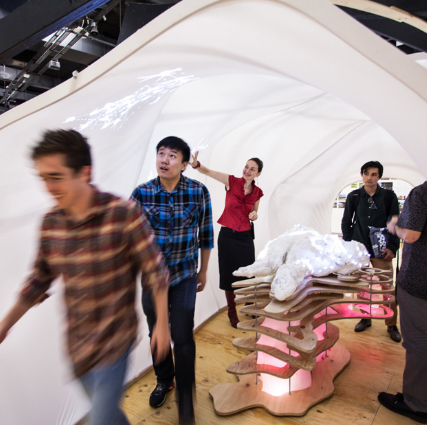 academics in a creative nexus of the arts, science and environment, 'Sulcus Loci' brings together seven organisations across the University. This immersive interactive installation was designed and built by students from Interaction Design and Master of Architecture courses at The University of Queensland in collaboration with artist Svenja Kratz. Sound Artist Eve Klein from UQ's School of Music has composed a complimentary soundscape for the work. Inspired by imaging generated by researchers of Queensland Brain Institute's Microscopy Unit, the team has created a structure and experience that highlights the interconnection between neuroplasticity – the ability of the brain to change ¬– and the human environment.
Using QBI brain scans, Svenja Kratz developed a conceptual brief for students in UQ's Master of Architecture, Master of Multimedia Design, and Master of Interaction Design programs, challenging them to collaboratively create an immersive exhibition environment. Searching for wonderment in the microscopic, Kratz created a sculptural component that captures the complexity of multi-cellular organisms. Incorporating black-light sensitive materials, the sculpture also references fluorescent imaging techniques employed at QBI that reveal individual cells and cellular components. Through touch and movement, different layers of sound and images are triggered mimicking the connections our brains make continuously as we interact with our immediate environment. Anticipating visitors' curiosity, students from Interaction Design have produced projected visualisations of neural 'nodes' that intensify with repeated and prolonged pressure to the structure's skin. Pathways are generated between each new node that strengthen like synaptic connections that develop through repeated patterns of behaviour or activity. Composer Eve Klein began with a simple question: what does a brain sound like when viewed at the level of neurons firing and connecting? The imaging generated by QBI researchers offers an insight into the minute structures and operations of our brains in real time. Visually abstract and otherworldly, Klein then imposes another layer of abstraction through sonification.