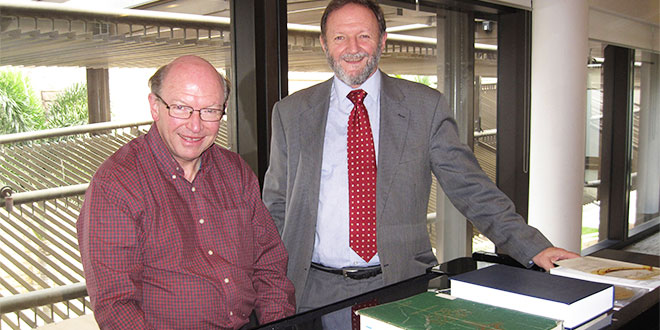 In a world first, brothers Graeme Morton AM and the late Ralph Morton have been awarded The Fellowship of the Royal School of Church Music in the same year.
Both Graeme Morton AM, Director of Music at St John's Anglican Cathedral and Choral Fellow and Senior Lecturer at The University of Queensland, and his brother Dr Ralph Morton, Director of Music at St Stephen's Catholic Cathedral, have been honoured with the world's highest award for achievements in church music.
The Royal School of Church Music (RSCM) normally gives up to five Fellowships each year.
"These are two giants of the choral world. They have encouraged and trained several generations of musicians and the excellent standards of choral singing are in the main due to their selfless and unstinting work over many years. Australian music will be forever in their debt, and we rejoice that their amazing work has been further recognised internationally," said Ross Cobb, Australia's national chair for the RSCM.
Professor Margaret Barrett, Head of School of Music at University of Queensland, congratulated Graeme and Ralph on the award of the Fellowship.
"This award acknowledges a lifetime commitment to excellence in choral music. The School of Music staff and students at the University of Queensland are inordinately proud of our colleague's accomplishments and his ongoing work with the next generation of musicians, " said Professor Barrett.
Founded in 1929 and originally called the School of English Church Music, it became the Royal School of Church Music by command of King George VI in 1945.
Other recipients of this prestigious award include composers Ralph Vaughan Williams, Benjamin Britten, John Rutter and Australia's Dr Robert Boughen.
Graeme has travelled to York Minster in the United Kingdom to accept the award. Due to the death of Ralph Morton earlier this year, Ralph's widow Cheryl will accept the award on his behalf.