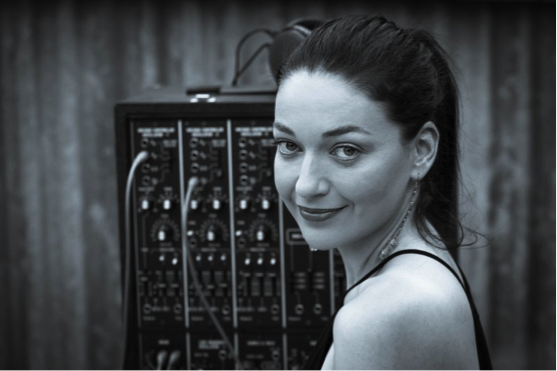 Dr Eve Klein, Director of Teaching and Learning and Lecturer in Music Technology and Popular Music at the School of Music, has been awarded funding through the APRA-AMCOS 2017 Art Music Fund.
The APRA-AMCOS Art Music Fund "exists to commission new work that is innovative, displays professional compositional craft and represents a benchmark of excellence in its field."
Dr Klein's project for which she has received the funding, Vocal Womb, breaks new ground as a 30-minute multichannel work scored for mezzo-soprano and electronics using medical devices to amplify and visualise the singer's internal body during live performance.
Support for this project is enabled by the UQ School of Music's Translational Research in Creative Practice initiative which proposes an understanding of Creative Practice as advancing new forms of knowledge beyond the academic sphere, aiming to produce new knowledge about the human condition through the application of creative practices to real-world problems in learning and development, health and well-being, and community engagement, and provide a medium for translating complex research findings into the public realm.
Vocal Womb aligns with these goals by producing new knowledge and experiences of the singing body during live performance, and by distilling complex research into an accessible format for presentation at large-scale public festivals.
"Our voices help define us: our collective humanity and individual selfhood. Having a voice signifies empowerment, but our voices are fallible, physical things which can fail us by quavering, scratching, or losing pitch when we most need their strength," says Dr Klein.
"Contained inside our bodies and concealed from view, two membranes are stretched across the larynx modulating airflow and vibrating to produce sound. Vocal Womb explores the symbolic and physical power of the human voice by revealing its internal workings, from inside the body of a vocalist."
Audiovisual feeds are subtly manipulated through live-processing and further modified by the audience who can mix the audio to refashion their acoustic experience of the work. The resonant properties of the performance space fold sound back towards the audience creating a layered and multifaceted listening experience. Performances will be lived-streamed in 360o video and documented as a live recording release. Performance dates will be announced in the second half of 2017.
Dr Eve Klein is Director of Teaching and Learning and Lecturer in Music Technology and Popular Music at the School of Music, The University of Queensland.