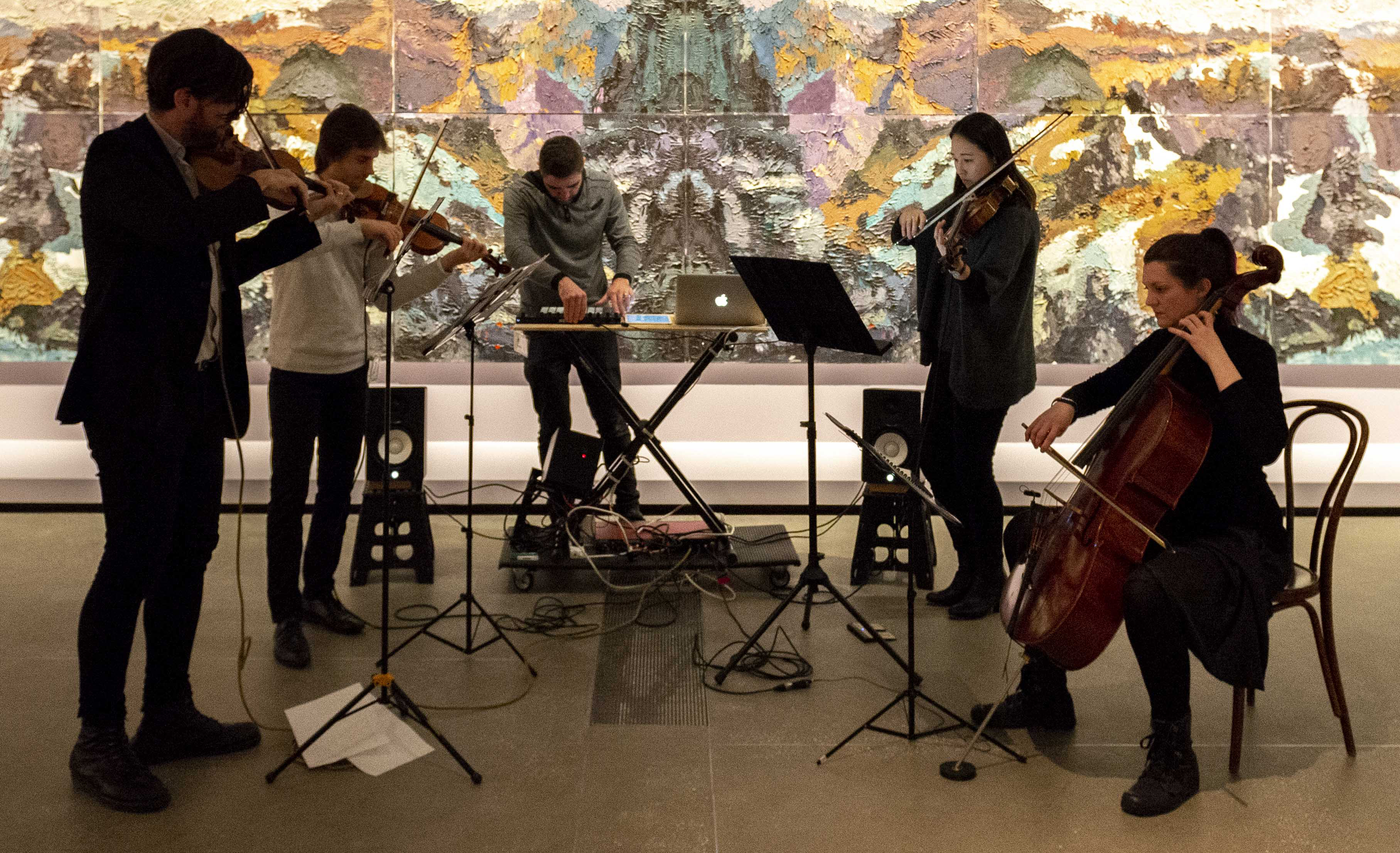 On selected dates, UQ-affiliated ensemble Nonsemble will bring the galleries to life with a collection of brand new compositions by the ensemble's Chris Perren and Briony Luttrell, which respond creatively to the life and works of these two artists.
In these compositions, the ensemble has explored a new way of working, involving some of the same music technologies taught in the UQ School of Music's Music Technology courses.
Composer and Music Technology Lecturer Chris Perren explains, "we are feeding the live string quartet signals into a laptop with Ableton Live software, and we use the Ableton Push instrument to manipulate those sounds and trigger samples and other sounds." The manipulations of the live strings create ghostly echoes and loops, resulting in rich atmospheres and textures.
The Pop-up performances are scheduled for various locations in and around GoMA, as part of the Friday night "Up Late" program, and the regular Sunday programs. There are four remaining performances - don't miss it!
Friday 9 August
Up Late: Custard + The Jensens
Nonsemble Pop-up performances:
5.45 – 6.00pm | GOMA Forecourt, James Turrell, Night Life 2018
6.45 – 7.00pm | Gallery 1.1, GOMA, 'Olley'
8.30 – 8.45pm | Gallery 1.3, GOMA, 'Quilty'
Friday 23 August
Up Late: Gawurra
Pop-up performance times:
5.45 – 6.00pm | GOMA Forecourt, James Turrell, Night Life 2018
6.45 – 7.00pm | Gallery 1.1, GOMA, 'Olley'
8.30 – 8.45pm | Gallery 1.3, GOMA, 'Quilty'
Sunday 25 August
Sundays at GoMA
Pop-up performance times:
1:15 - 1:30pm | Gallery 1.1, GOMA, 'Olley'
2:15 - 2:30pm | Gallery 1.2, GOMA, 'Quilty'
Sunday 13 August
Sundays at GoMA
Pop-up performance times:
1:15 - 1:30pm | Gallery 1.1, GOMA, 'Olley'
2:15 - 2:30pm | Gallery 1.2, GOMA, 'Quilty'