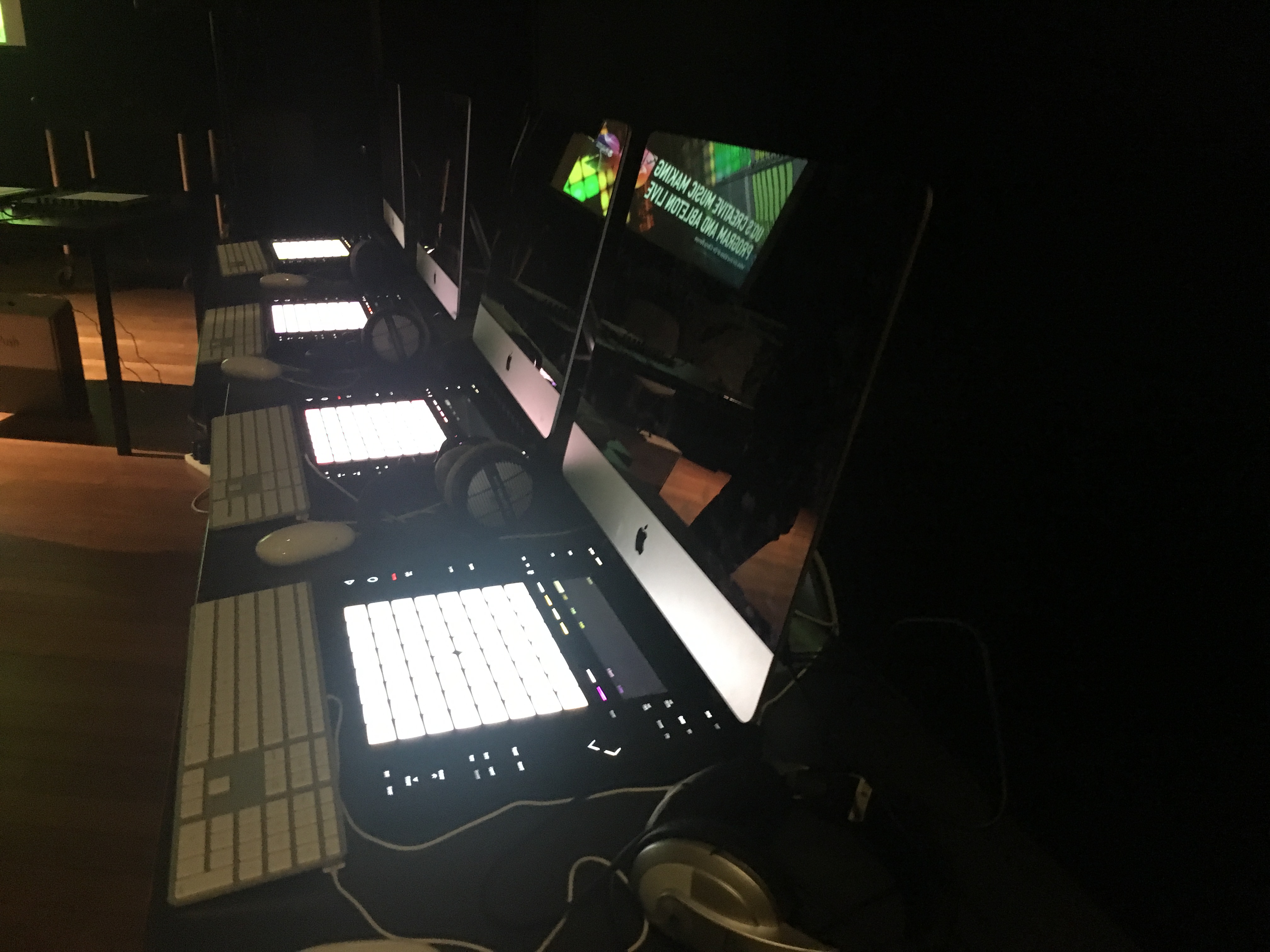 Staff and students are enjoying opportunities to get a taste of what is coming later this year for the music technology teaching program.
Earlier this month on 9 May 2016, the School of Music hosted a practical workshop in collaboration with industry leader Ableton that showcased new techniques and technologies for creative music making, with a focus on composition, performance and collaboration. The workshop featured Ableton Live, Ableton Link and Push 2 technologies that will be incorporated into courses for Semester Two 2016, as well as a live performance by Touch Ensemble, UQ's first iPad Ensemble, who worked with surround sound speakers to create an immersive and ambient experience for the audience.
During the workshop, audience members joined the WiFi network and were able to play in-time with each other using Link compatible apps on iPads, iPhones and laptops. They also experimented with real-time composition techniques using the new Push 2 controllers under the guidance of Ableton's Australian Brand Manager, Mr Adam Maggs, who said he found the workshop inspiring.
"In visiting campuses across the globe as part of the Ableton University Tour, we've seen incredibly varied music-making techniques using Live, Push and Link," Adam said.
"These tools turn the studio into an instrument, and are enabling new practices in music education. To see these in use by The University of Queensland staff, students and their iPad ensemble was particularly interesting – it was a pleasure to see, first hand, the pioneering work being done by Dr Eve Klein and Dr Chris Perren in the intersection of traditional music practice and contemporary tools."
The School of Music currently has the largest installation of Push 2 devices in a music technology laboratory in Australia, established this year under the direction of Dr Eve Klein, who is an Ableton Live Certified Trainer.
The investment in these new technologies furthers the integration of music technology across the teaching activities of the School of Music, as demonstrated through the upcoming public performance by Touch Ensemble on 31 May 2016.
Dr Chris Perren, director of Touch Ensemble, said the performance would explore the possibilities of mobile digital music making, featuring both original works and interpretations of compositions by John Cage and The Knife.
"Students in Touch Ensemble have worked very hard this semester to explore the iPad as an instrument for music performance, and I think the audience will be surprised by the expressive capabilities they've coaxed out of these familiar devices," Chris said.
"Making music together on iPads is a very new idea, and so every rehearsal has taught us new ways of working with, playing, connecting, and connecting the devices. This concert will show our progress thus far, and we expect even bigger and better things as we continue to develop the ensemble into the future."