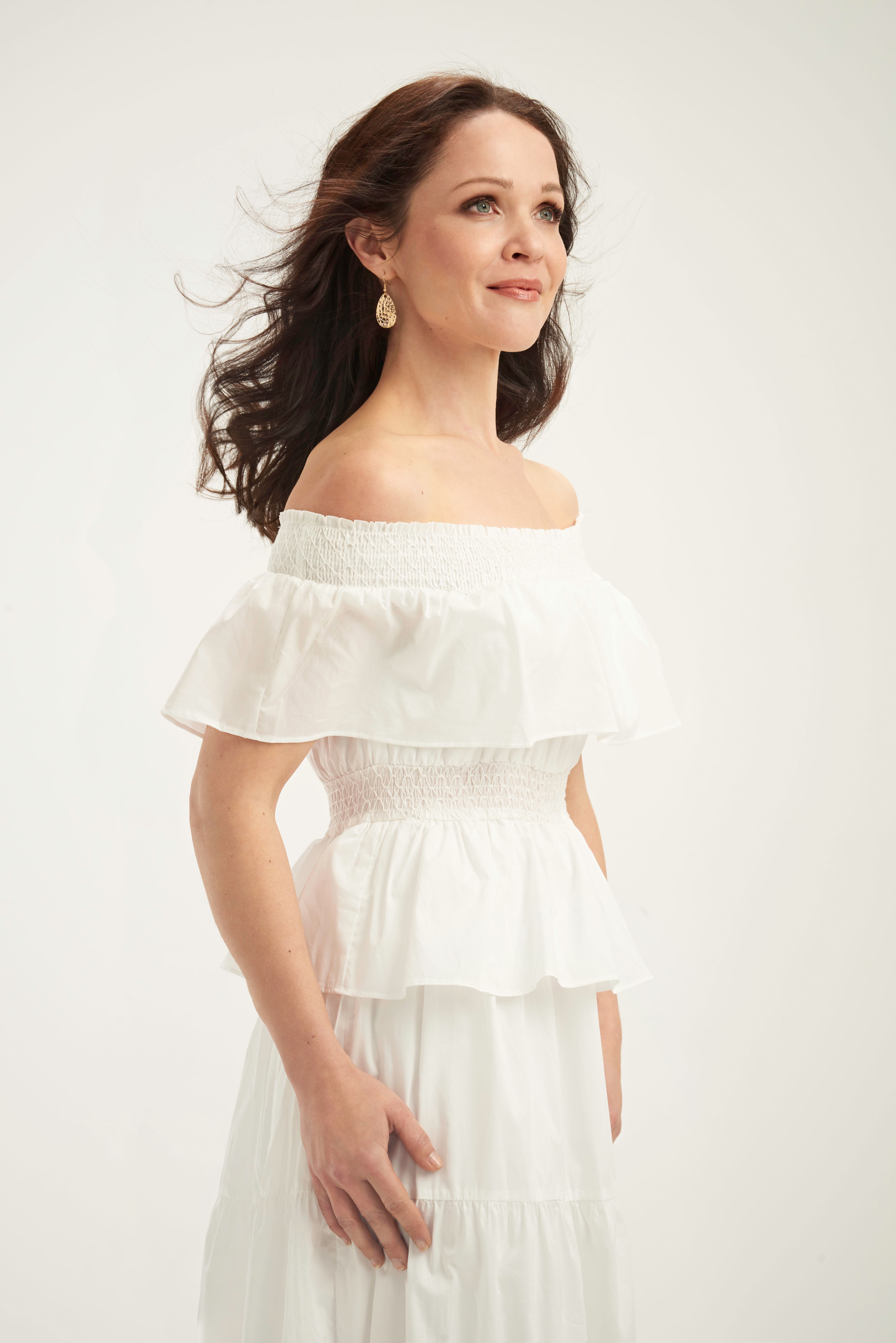 Greta Bradman will be performing this Thursday as part of the UQ Masters Concert Series. We caught up with Greta to discuss what she believes is the key to not just a successful career, but a fulfilling one. 
In August you'll be coming to the University of Queensland to deliver a lunchtime performance, a Masterclass and a lecture. What can audiences expect during your time with us?
Some great music making from UQ folks and hopefully some thought provoking questions and pieces of information to come away with, to optimise performance and to consider good mental wellbeing more sustainably in (and out of) a performing arts career.
Your new album Home focuses on the memories of your family and Adelaide home and comes after your operation that made you question whether you would ever sing again. You have discussed how music opens up a vulnerability for people, but do you feel the opposite was also true for you? Do you feel there was a new vulnerability that opened up in your music because of your recent challenges? 
The process did help me refine and order my life priorities and reflect on what it is that I get from singing more, and certainly the joy I get from the act of making music, especially with dear friends such as Adam Chalabi, has definitely deepened.
Home was done in collaboration with the Adelaide SO and Luke Dollman. How do you approach collaborative projects and did this project differ in any way? Did Luke give different perspectives on the musical material that guided the album?
Whilst the material was set before Luke came on board with the project, he absolutely played a major role in bringing it to life. Not only in terms of interpreting the works but the energy he brings to a room and the flow-on effect that energy has to the process of making music. Same with every member of the orchestra. It was a true collaboration. Everyone involved in the music making is wholly entrusted with the process of bringing the music to life in ways that resonate for them. Working in this way, where the choice is made to genuinely afford everyone's opinion respect, I find a wonderfully effective way of collaborating. People then incline towards the collaboration rather than trying to assert their own view that way I find.
You will be delivering a lecture at the University of Queensland during your visit here. How important is it that you balance up your love of performance with public talks and workshops? Some artists find talking about their work awkward, but you seem to find it very intuitive?
I must admit I find it sort of challenging too.  I really appreciate my privacy and being intentionally vulnerable can be personally draining at times – but I really believe in the process, and in the need for all of us to collaborate with ideas, facilitators and barriers to leading lives that we feel truly energised by, and that keeps me going.
Your lecturer will include a discussion on artists moving 'beyond' resilience. This topic is particularly exciting, as the term 'resilience' conjures up the notion of music careers being a 'struggle' or 'battle' in which you either 'hack it' or don't.  Was this ever the case for you? What made you explore the idea of moving 'beyond' resilience as a musician?
I think trying to be strong as a performing artist can't last because the demands are sufficiently gruelling that in the end, one's stamina with that approach won't be enough. In positive psychology these days there's an appreciation of various aspects (such as those wrapped up in Martin Seligman's PERMA model) that point to the benefits of identifying one's key drivers – core values that mean so much to you as an individual and which might be quite different to your sibling's or your friend down the road. Having a purpose-filled life focused on our core values, while equipping ourselves with the necessary tools to regroup and orientate ourselves to the constructive aspects of the world (and an appreciation that all we can control is ourselves) can be really helpful for us as whole people – striving for great music making that is unimpeded by concerns about whether we're "good enough". Music making at its most exciting happens when musicality and sufficient practice comes together with a willingness and freedom to be vulnerable in one's performance. To fully explore the possibilities of a piece of music and our interpretation of it. If we hold on too tightly to our own sense of identity, to our ego, or our attachment to 'success' – we can sabotage our own unique capabilities for greatness. To answer your second question – what made me explore the idea of moving 'beyond' resilience was a theoretical issue combined with the concept of resilience as being conducive or sufficient for great performance moments, coupled with research into predictors of good mental health amongst performing arts workers was responsible for that.
You will also be discussing the Australian recording industry and your perspectives on independent vs. label productions. Independent musicians are quite common in rock and pop scenes. Is there a community of self-producing 'classical' musicians that you feel are having successful and/or fulfilling careers at the moment? Can you give us a hint of your experiences with this?
I'm signed with a large international record label myself and there are pros and cons to that. I'm not going to provide a judgment on one being better than the other and certainly my being signed to a big label shouldn't be taken as my considering that to be a better state of being. I think there are pros and cons to either position and whilst I've never publicly talked on this before I'm keen to start doing so, as I've become aware at how little people know about how the recording industry works, and what should be taken into consideration depending on your goals and aims.
Your artistic practice and work as a psychologist seem interconnected - moving beyond the 'clinical' and into a space of personal or even 'spiritual' reflection. What was your process or journey in synthesising your psychological and musical backgrounds?
I'm still on it - very much a work in progress. For me music is like breathing – it's always been a massive part of my daily life and I couldn't get through life without it, yet I think my number one compulsion and love is for thinking and synthesising ideas around meaning-making and purpose. Music enables me to investigate aspects of human nature that involve these aspects of life, as do conversations with a great many people in other contexts. These conversations have left me with a deeper sense of the role that music can play in connecting us and reflecting aspects of ourselves as humans. I've a few areas of study under my belt that have allowed me to rigorously pursue areas of thought and research, and these have probably catalysed the convergence of music and psychology – coming together around tenets of performance and life more broadly.
You have been very honest with your struggles of depression as a young person, yet this seems a common health issue amongst artists. Do you believe this sensitivity to the other side of human nature has given you an insight or perspective on artistry that you might not have had otherwise?
Funnily enough I've never used the word depression with reference to myself, and I don't believe that was a primary issue for me. I am passionate about ensuring that my mental health journey, as with any other, is not presumed to have been along certain lines when in fact that was not my experience. Whilst those who are particularly insightful, empathetic, and prone to reflection and thinking deeply about things may take this down a road of "if only's" or "what if's" leading to issues of depression or anxiety, this is not a fait accomplish, and research suggests that at least for those working actively in the performing arts industry, problems with mental health may relate more to working and industry conditions than to predisposed traits or psychological characteristics. Further, all children have the capacity to be insightful and perceptive creators of artistry. Humans are so malleable in our makeup that whilst some can close off this part of themselves someone what in pursuit of other foci, for those of us who choose to engage in that part of ourselves it isn't closed off in the same way. Maybe through our environment and certain encouragement therein, maybe partly through inherent interests, we engage with this part of ourselves but I would argue that through research, we can say that it is part of almost all human beings innately. Certainly there is a cumulative benefit, artistically speaking, to positively and constructively engaging with the sensitive side of one's self. But again I would say that you can do so without sacrificing broader wellbeing in the process. In fact, feeling relatively secure in one's sense of self and one's relationships can provide a great base from which to be vulnerable and take artistic leaps of faith into the unknown.
Is there anything else you like us to know about your visit to the University of Queensland?
I'm really looking forward to it! When I'm on the ground I am happy for anyone to come up and have a chat if I'm around the cafeteria or the like. Ask me questions, etc. If I'm around you can consider me very happy to chat. As a registered psychologist, even when I have conversations outside of the clinical space, I take very seriously the matter of confidentiality.