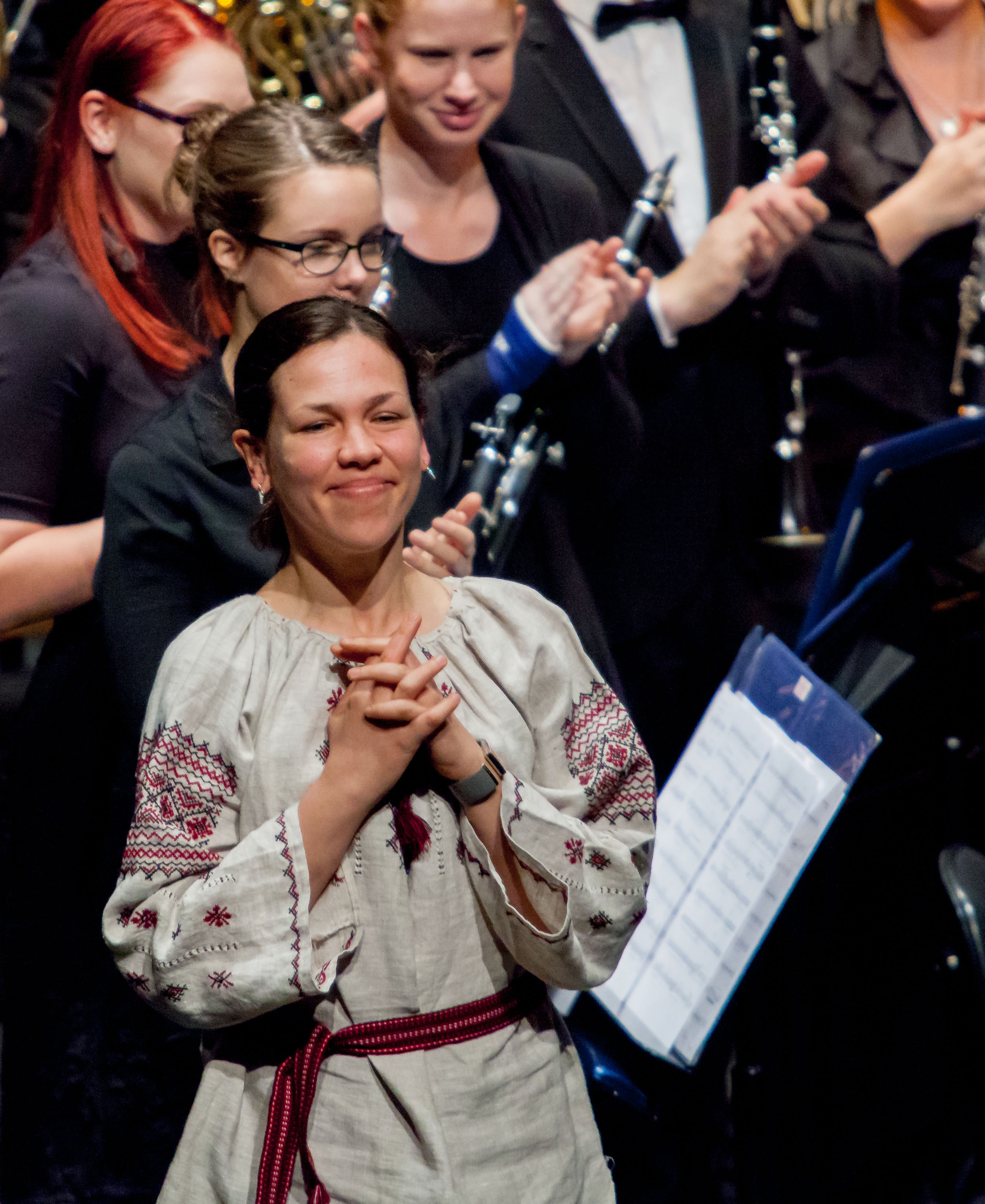 Catherine Likhuta was extraordinarily busy in 2018 while touring and presenting new works. 2019 looks to be no less exciting for UQ's PhD composition candidate!
In December 2018 Catherine's piece Home Away from Home received a preview performance at the Midwest Clinic in Chicago - an outstanding achievement for an Australian female composer.  Home Away from Home was commissioned by the Columbia University wind ensemble (conducted by Jason Noble) and will premier at the prestigious Carnegie Hall in New York on the 25th March 2019.
Catherine has also been commissioned to write "Dreams of a Wombat" for solo French horn, by the current president of the International Horn Society, Andrew Pelletier. The premiere performance is scheduled to take place at the 51st International Horn Symposium in Belgium in June 2019.
Closer to home, Catherine will also be writing a saxophone concerto arrangement of her piece Let the Darkness Out (originally a saxophone sonata), which will be performed by Michael Duke and the Sydney Conservatorium wind orchestra (conducted by John Lynch). Her orchestral work Rituals of Heartland (2017) was commissioned by the Melbourne Symphony Orchestra as part of the Cybec program and will be performed in Brisbane during May 2019.
Catherine's 2019 schedule comes as no surprise to her colleagues who have been following her work in recent years. Her music received a standing ovation after her North American premiere of her oratorio at the University of Georgia in 2017 - a piece at the focus of her PhD thesis. The sold out concert was built around the topic of mental illness and its perception in our society and involved over 100 students in the performance. Scraps from a madman's Diary is now being included in the upcoming volume 2 of "Best Music for Chorus and Winds" (K.Kinder). A video of the entire piece can be viewed below. 
Scraps from a Madman's Diary (2017) by Catherine Likhuta
Catherine in 2018 finished a US tour, presenting her horn music with Adam Unsworth (University of Michigan) and Peter Luff (QCGU). The tour included presentations at the 50th International Horn Symposium (Ball State University), University of Michigan, Western Michigan University, East Carolina University's North Carolina NewMusic Initiative, Bowling Green State University, Ithaca College, Rutgers University and University of Maryland.
In 2017 Catherine was also supported by an Australia Council for the Arts grant to write a chamber concerto for two horn soloists and horn quartet titled Bad Neighbours (2017) that was selected as the winner of BGSU New Music Festival's call for scores in the horn music category. The piece received a featured performance at the festival on 18th October, 2018. 
In late 2018 Catherine undertook a residency at the University of Connecticut to prepare for the performance of her earlier piece Me Disagrees (2013). The piece is scheduled to be performed by the University of Kentucky wind band (conducted by Kaitlin Bove) and had its UK premiere by the Lambeth Wind Orchestra (conducted by John Holland) in late 2018. In 2019 it is being premiered in NZ, and will also be featured in Melbourne, Adelaide and New York City