Songs of Love and War

Presented by Opera Queensland and The University of Queensland School of Music in association with Urban Art Projects (UAP). Director: Patrick Nolan. Musical Director: Dane Lam. Head of Music: Narelle French. Chorus Master Shaun Brown. Arranger Demetra Politakis. Urban Arts Project foundry. 26 September, 2021
 
It's fantastic to see so many producers taking their shows to new and exciting venues. It's always sensational to see them take a risk, especially when that risk pays off so beautifully, as is the case with Songs of Love and War. The show is a collaboration between Opera Queensland and the University of Queensland School of Music, performed in the exciting space where Urban Art Projects builds enormous artworks destined for public spaces around the world.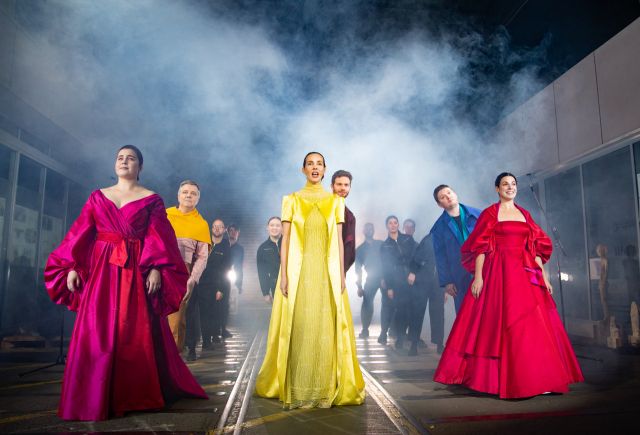 The production features an eclectic mix of tunes. Some inspired by modern music – Life on Mars (Arr. Alexander Voltz) David Bowie, Aint no Mountain High Enough (Arr. Alexandra Dunk) Nicholas Ashton and Valerie Simpson, Love is a Battlefield (Arr. Marike van Dijk) Pat Benatar, Stairway to Heaven (Arr. John Rotar) Robert Plant, Brown Eyed Girl (Arr. Matthew Minter) Van Morrison, I Will Wait for You (Arr. Alexandra Mison) Michel Legrand, All the Single Ladies (Arr. Robert Davidson) Beyoncé, Winner Takes It All and Waterloo (Arr. Robert Davidson) ABBA – which has been reimagined and rearranged in an operatic fashion into new Australian works by the students from UQ's music composition department. These compositions intermingle with works from Madrigali Guerrieri Et Amorosi by Claudio Monteverdi.
The show is just as visually engrossing as it is aurally stunning. The combination of industrial space, modern art and gorgeous costuming designed by Karen Cochet and Bianca Bulley is supported by huge projections of subtitles and Line Drawing by Artist Tony Dowthwaite. The audience is encouraged to follow the performers around the giant warehouse space. A multitude of raised platforms and existing structures in the warehouse are used as staging areas. How on earth Bernie Tan-Hayes solved the problems of lighting it all so well is beyond impressive. Especially meeting the challenge of keeping a spotlight on singers when they walked through the audience.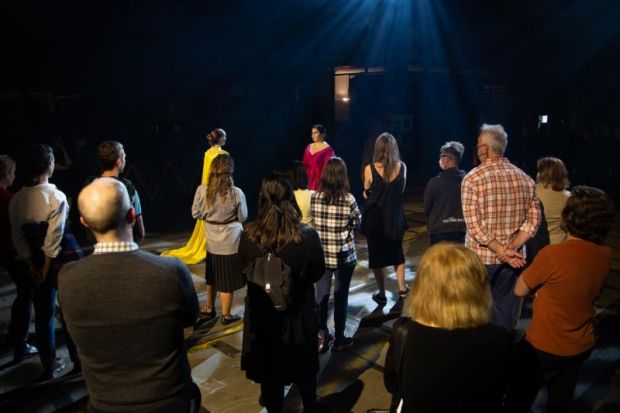 As for the Opera Queensland performers (Sofia Troncoso Soprano, Amber Evans Soprano, Jessica Low Mezzo-Soprano, Nick Kirkup Tenor, Shaun Brown Baritone, Timothy Newton Bass-baritone), they delivered with passion, skill, and dedication. You could also sense great enjoyment from the UQ Pulse Chamber Orchestra and The UQ Singers. One usually only finds this level of confidence and joy from performers who have been led by great directors. To that end, Musical Director Dane Lam and Director Patrick Nolan should be very proud what they've achieved. Here's to many more exciting collaborations (and locations) for Opera Queensland in the future.    
Kitty Goodall
Stage Whispers
Photographer: Murray Summerville / Courtesy Opera Queensland.